Last month, the world celebrated International Women's Day. Here at TrafficJunky, we thought it might be interesting to celebrate women in our own way by presenting our advertisers with tips and tricks on how to successfully create female friendly campaigns. The data scientists on the Pornhub Insights team have been researching our female demographic for the last 2 years and have successfully been able to break down the answer to an age old question – what do women want? With their help and expertise, we were able to figure out what the women on our network are interested in so that we know how to target them better. After all, they make up 24% of our visitors!
So, what does a woman want? Well, if they're on the Pornhub Network, they seem to really enjoy watching some lesbian action! According to Pornhub statisticians, the lesbian category is the leading favorite among the ladies:
On top of targeting the Female Friendly zone on TrafficJunky, it might also be worthwhile to add keyword targeted campaigns on straight zones to extend your reach. Keywords are a great way to target only the specific traffic you are looking for. Using the top category names as keywords is one way to really give women what they are looking for, not to mention boost the potential ROI of your campaign at the same time!
Since we now know what categories the ladies like the most, we also wanted to know what categories women are more likely to visit over their male counterparts. Luckily, we have this data in a handy chart:
It's no surprise that the female friendly category is at the top of the list, this is why targeting the Female Friendly zone is a great option when targeting women. Again, using these category names as keywords in your campaign is a great way to get female traffic that is highly targeted and in tune with what women truly want.
Adding to our keyword strategy, another great way to get keywords is to use popular search terms. What better way to get a woman's attention than to give her exactly what she's looking for? According to anonymized data, some of the most popular search terms among women are lesbian, threesome, squirt and gang-bang. To see the whole list, our friends at Pornhub were kind enough to put this handy chart together:
If we want to take things one step further, we can look at what terms women search for more than men. Since we know keywords are so important, adding these to your list will cast a wider net and focus on only the specific traffic you are looking for.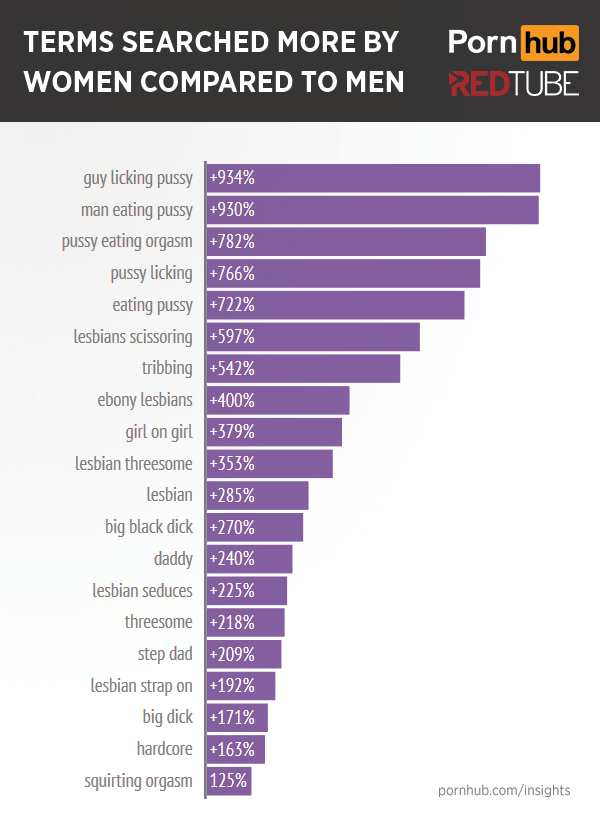 Now that we know what women want and what they are looking for, it's time to find out where all the ladies are. While you can't GEO target in the Female Friendly zone, you can certainly see what women from our top 20 countries like more compared to the rest of the world. The results are definitely interesting!
If you're looking for ladies in all the wrong places, this information will certainly help you out. Want to target German women? Use 'fetish' as a keyword! When targeting Canadian women, you should add "bondage" to the list of keywords in your campaign and so on.
We hope that delving deep into the details of what women really want was insightful! If you need more help setting up a female friendly or female targeted campaign, don't hesitate to contact our sales team!