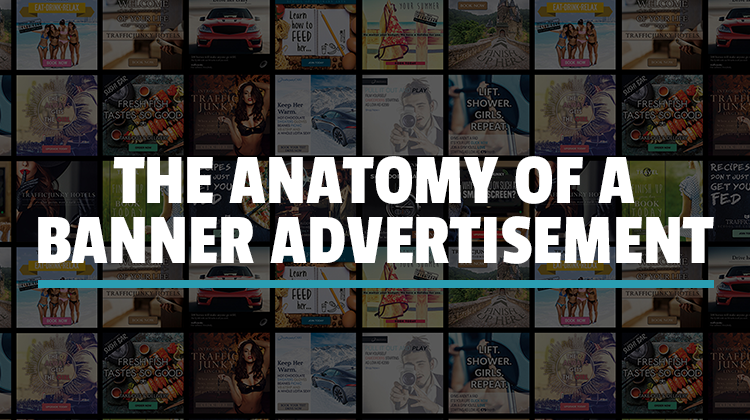 The internet is riddled with options when it comes to banner creation services. If you're a more hands-on, creative type you'll best be suited with photo manipulation software like Pixlr (FREE) and Photoshop (PAID).
For less tech savvy individuals, there's always a way to pay for your banners with the help of local graphic designers or freelancers on Fiverr.
Where do you go from there? Software and freelancers are great, but what elements should be included on your banner in order to get optimal performance?
The Anatomy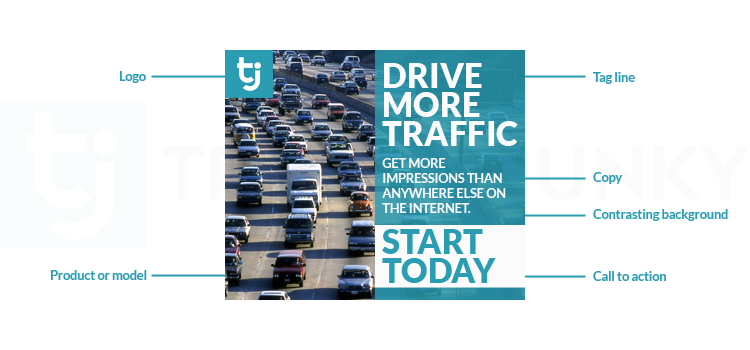 Let's breakdown the banner we've created for you above. Keep in mind that you'll want these elements to flow well within the advertisement, too many components will create clutter which will reduce conversions. More times than not, simplicity is key.
The Breakdown
For the sake of this post we've added most of the key elements needed for your banner to be successful.
Logo: While it isn't entirely necessary for it to be included on your banner, you might want to consider it if you have a recognizable brand.
Tag line: Space reserved for a slogan or catchphrase which will sum up the idea behind your product.
Copy: You'll be very limited in terms of space-especially if you're looking to prevent clutter. Be concise and use your words wisely in an effort to persuade.
Contrasting background: Serves as a way for your advertisement to standout and grab attention. Especially useful when your potential clicker is focused on more important things.
Call to action: Use words or phrases that motivate a viewer to click on your banner – Create that curiosity! For more information, check out our past blog post What is a Call to Action
Product or model: The majority of high-converting banners feature either a model or a photo of the product you are offering. If the site and placement allows animation, make sure to test that as well.
Video player elements: Not a mandatory thing to have but it's interesting to place over an animated banner.
We've broken down the different elements needed in order for you to build high quality banners right out the gate. It's all up to you from here, having reviewed over 2 million ads we can comfortably tell you that the possibilities are endless.
Still unsure about your banners? Reach out to our support team and have one of our representatives take a look!