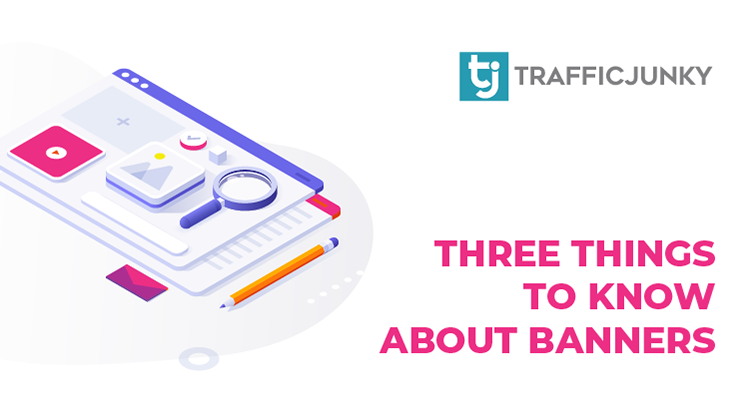 You're probably sitting there with a relatively good looking website, ready to takeover the world by running on TrafficJunky!
Once the campaign creation process has begun, you realize this is a banner advertising platform and you have no banners–because that vital piece of information somehow escaped you.
Here are three things you need to know about creating banners on TrafficJunky:
Comply with our rules and regulations
Understanding the TrafficJunky rules and regulations is as vital as the banner's design itself. We covered this at length in our 'Top Three Banner Rejection Reasons' post.
Nothing is more infuriating than working on a banner–either on your own or with a designer–and seeing your creative rejected on account of being non-compliant with our network's animation or content rules.
Make sure to familiarize yourself with what you can advertise on the TJ network before creating your display banners. Taking a few minutes to review our rules will save you a few hours in the future.
Use the right tools
If you're like me, you like to roll up your sleeves and do things yourself. Lucky for you, the internet is chock-full of solutions which will help you create your banners.
Let's start with everyone's favorite price point, free. The zero dollar options available to you come with a suite of features which will help you build professional looking banners without breaking the bank.
If you're not interested in installing any software on your computer, browser-based image editor Pixlr is your new best friend. While you'll understandably be limited when it comes to image manipulation, the basics still remain. Pixlr is your go-to service for simple banner creation.
For a fuller suite of features and a $0 price tag–you'll want to download GIMP. The software has been around for well over twenty years and has a slew of interesting tutorials available online. Use this if you're looking to spend a little more time learning a software and are looking to take your banners to the next level.
Free is fun, but always remember you get what you pay for and purchasing Photoshop will take you to a completely different photo-editing realm.
Turned off by all this hard work mumbo-jumbo? There's always your local graphic designers or freelance websites like Fiverr  and Guru which will help you find the right people for the job and save a pretty penny while you're at it.
Understand formats and dimensions
By default, TrafficJunky's banner advertising platform will allow you to upload three types of image formats:
PNG: For optimal use on the Internet if you're looking to preserve the way an image looks and limit file size.
JPEG / JPG: Commonly used in photography, produces high definition images. File sizes tend to be larger.
GIF: Supports animation, can also provide limited file size.
From there, you'll want to make sure you're uploading banners with compatible dimensions. Here are three of the most common banner sizes you'll find on TrafficJunky:
Creating your own banners may seem a little daunting at first, but after getting a clear understanding of our rules and regulations, picking the right tools for the job and grasping the compatible image formats you'll be one step ahead of the competition.
Anything else you'd like to know about banners? Comment down below!