While our GEO Spotlight series has done a great job covering different countries you should target, our aim with 'Top 10 GEOs' is providing you with a more insightful offering.
After traveling to the Great White North last week, we're back in Europe for an inside look at France!
Sadly we won't be discussing the brilliant art, the culinary mastery or–for you drunkards out there–the exquisite wines.
You can however Google all of those things, test them out and get back to us with a two-thousand word essay.
Here's the 411:
France by the Numbers
Daily Impressions: 141 659 908
Three spots under $0.10 CPM:

Pornhub Mobile Header – $0.06
YouPorn Mobile Header – $0.06
YouPorn Tablet Video B – $0.09

Sold CPM: $0.14
You can find plenty more information on our daily pricing and inventory page.
Insights
A study conducted in 2016 by our friends at Pornhub insights took a closer look at France's favorite search terms.
If you remember correctly, search terms on TrafficJunky equal keywords–which you can target on our platform.
Aside from the usual French-centric searches i.e. French or Maman Francaise, popular queries include beurette, lesbian and hentai.
That lost one is important, hentai or anime games could potentially offer an interesting return when targeting France.
Peep the image below for a geographical breakdown of most viewed relative categories.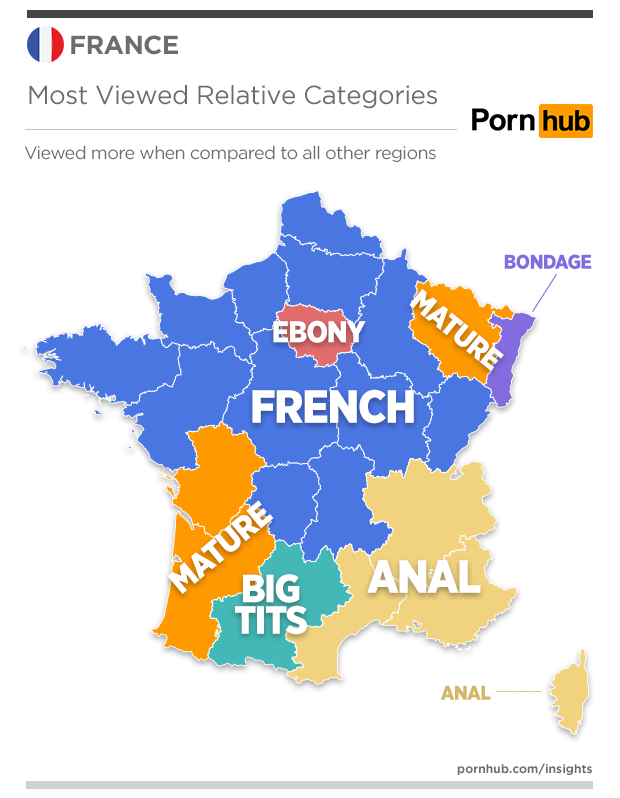 Remember to get those banners translated if you're targeting a French-speaking GEO!
Popular freelancing sites like Fiverr and Upwork are two of many options when it comes to translators.
You can always be fancy and use the Yellow Pages, we won't hold it against you.
Stats taken from Tuesday November 21st.