If you are an affiliate or media buyer targeting UK traffic, you need this.
As partners of TrafficJunky, we constantly want to ensure that you're all aware of the changes that may affect you.

What's happening?
Last year, the UK introduced the Digital Economy Act 2017.
By April 2018, all websites with pornographic material available in the United Kingdom on a commercial basis should make this material inaccessible to minors.
This Act, from the Parliament of the United Kingdom, will be enforced fast. The regulator appointed by the Secretary of State will have the power to block any adult website not using compliant age verification software.
A simple "Are you over 18" checkbox won't suffice. Only robust methods such as Credit Card, Mobile, and Passport will be allowed.
In brief: "Age-Check your clients or we shut you down"
What are the consequences?

Blocked ISP
All UK Internet Service Provider (ISP) will stop non-compliant sites if requested by the regulator
Blocked Payments
Payment Service Provider withdrawal – Visa and Mastercard will stop non-compliant sites processing payments, globally
Social Media Accounts Removed
ASP withdrawal (Ancillary Service Provider) – Anyone facilitating the distribution or advertising of non-compliant sites can be asked to withdraw their services

Advertisers
Social Media
Forums, blogs, community hubs
Cyberlockers & Cloud Storage
Search Engines
Hosting Services
Domain name registrars

Huge Fines
What's the solution?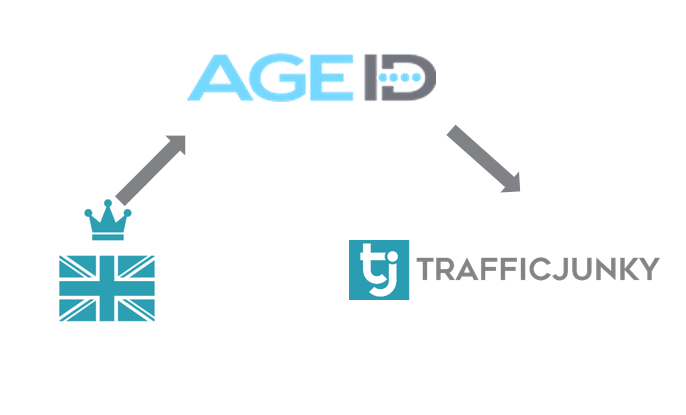 In order to maintain a constant flow of traffic towards your ads, and to avoid the consequences of non-compliance, we recommend AgeID – a simple, fast, secure age verification.
As customers of TrafficJunky, we want to ensure compliance with the law is a smooth process for you so you can concentrate on your core business, and we are here to help.
We currently have an appointed Sales Representative – Chrissy Salazar – that will be able to guide you throughout this whole process.
She will be able to provide you more detailed information on AgeID, as well as what we have to offer.
You can reach her via:
Don't wait up, act now before it's too late!