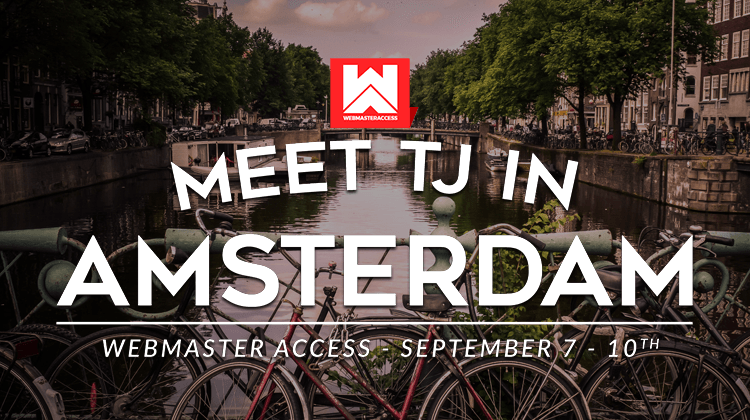 The TrafficJunky team's European tour kicks off on September 7th when we visit Webmaster Access in Amsterdam.
Following a relatively mellow month of August, the TrafficJunky crew is back on the road.
Let's take an inside look at the show and the TJ representatives making the trek to the Netherlands.
Also, it just so happens TrafficJunky–and close and personal friends Pornhub, AdultForce, Nutaku and AgeID–are presenting sponsors.
About Webmaster Access
Don't take our word for it, here's what the show's organizers have to say about WMA:
Taking place from September 7 – 10th at the Amsterdam Double Tree by Hilton, Webmaster Access celebrates it's 13th year as Europe's most renowned adult industry trade show. The annual trade show attracts more than 1,000 attendees and continues to grow each year. Among the various participants are website owners, webmasters & affiliates, traffic and marketing specialists, content providers and producers, mobile service providers, software solution companies, design services, billing and e-payment providers and more.
WHERE: Amsterdam DoubleTree by Hilton
WHEN: September 7 – 10
While we we'rent able to find footage from last year's event, check out the show's official website.
Register, look at the schedule or take a gander at the participants.
About the TrafficJunky Team Attending
Attendees will be able to talk traffic with Graham and Chris. 
Don't miss out, book a meeting with us today!
Here are three ways you can do that:
We'll have extended coverage of Webmaster Access with another edition of Quick Guide, stay tuned.