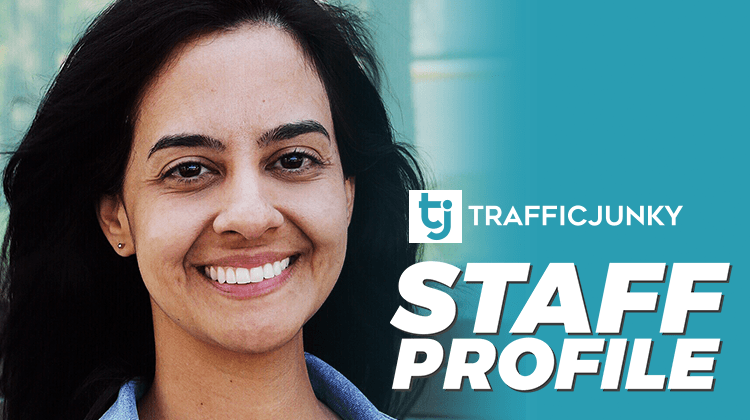 TrafficJunky never stops exploring international markets. And one of our very valued areas being Latin America.
So today we sat down with Paula, the LATAM Market Development Director of TrafficJunky, and talked about something interesting about her and her job.
With all her enthusiasm for the work she is doing, Paula is always ready to help her clients with anything. You can reach out to her via Skype or email at any time:
Skype: paula_11415;
Email: Paula.RibeiroSilva@mindgeek.com.
1. Há quanto tempo você trabalha na TrafficJunky?
Estou na TrafficJunky há quase 4 meses.
2. De onde você é (caso não seja Canadense) e o você acha da vida aqui?
Eu sou do Rio de Janeiro, Brasil e adoro morar em Montreal.
3. Se há uma coisa que você gostaria de nos dizer sobre você, qual seria?
Eu estou sempre sorrindo e pensando positivamente.
4. Do que você mais gosta em ser Diretora de Mercado em Desenvolvimento – Latam?
Entender a necessidade dos clientes e oferecer a melhor solução. Mostrar que eles podem sair do " lugar comum" e inovar na hora de anunciar. Além disso, ajudá-los a ter sucesso e ajudá-los durante todo o processo: desde a apresentação da plataforma, as tarifas, sugerir os melhores spots e ver que as campanhas apresentam resultados!
5. O que motiva você no seu dia-a-dia?
Organização e a sensação de que posso administrar meu tempo, e aproveitá-lo da melhor maneira possivel no meu trabaalho e nas coisas que adoro fazer como sair com os meus amigos, fazer exercício, ver filmes e ouvir música.
6. Qual é a melhor coisa de trabalhar na TJ?
O desafio e todas as pessoas incríveis que eu conheci e com quem trabalho. Eu aprendo muito com eles todos os dias!
7. O que é um dia típico de trabalho para você?
Chego no escritório pela manhã, vejo minhas mensagens no Skype, meus e-mails e LinkedIn. Verifico os números e os desempenhos das campanhas e entro em contato com meus clientes. Eu também dedico parte do meu tempo na prospecção, na busca por leads e brainstorming com minha incrível equipe!
8. Que animal você teria como seu Patrono?
Nunca pensei nisso …
9. Algumas sugestões para criar campanhas de marketing usando a TrafficJunky?
Criatividade! É importante chamar a atenção do seu cliente e mostrar que seu produto / serviço é único!
10. O que você consideraria um sucesso em relação a uma campanha publicitária?
É importante comunicar como seu produto ou serviço se encaixa na vida do seu público. Como isso os tornará melhores, mais produtivos, mais felizes. E mais uma vez: Criatividade!
11. O que você faz para ajudar os clientes a obter sucesso?
Ouço o que meus clientes têm pra dizer, converso para entender suas necessidades, falo o mesmo idioma e mostro que estou aqui para ajudá-los a ter sucesso.
---
1. How long have you been with TrafficJunky?
I have been with TrafficJunky for almost 4 months.
2. Where are you from?
I am from Rio de Janeiro, Brazil.
3. If there's one thing that you'd like to tell us about yourself, what would it be?
I am always smiling and positive thinking.
4. What do you like about being Global Market Development Director?
Understanding the customers' needs and offering the best solutions. I also love encouraging them to get out of the comfort zone and innovate when it comes to advertising.
5. What motivates you in your day-to-day life?
Being organized and the feeling that I can manage my time and enjoy working. Doing things that I love motivates me a lot too, like going out with my friends, exercising, watching movies and listening to music.
6. What's the best thing of working with TJ?
All the amazing people I got to meet and work with. I learned a lot with them!
7. What's a typical day at work for you?
I arrive at the office, and first check my Skype, email and LinkedIn messages. Then I check the campaigns numbers and get in touch with my clients. Other than that, I also dedicate my time to prospecting, leads and brainstorming with my amazing team!
8. What animal would you have as your Patronus?
Never thought about it….
9. Some suggestions on creating marketing campaigns using TrafficJunky?
Creativity! It is important to call your customers' attention and show your product/service is unique!
10. What would you consider as a success regarding an ad campaign?
It's essential to communicate how your product or service fits into your audience's life. How it will make them better, more productive, happier.
And again: Creativity!
11. What do you do to help clients achieve successes?
Listen to them, understand their needs, speak their language, and let them know I am here to help them succeed.