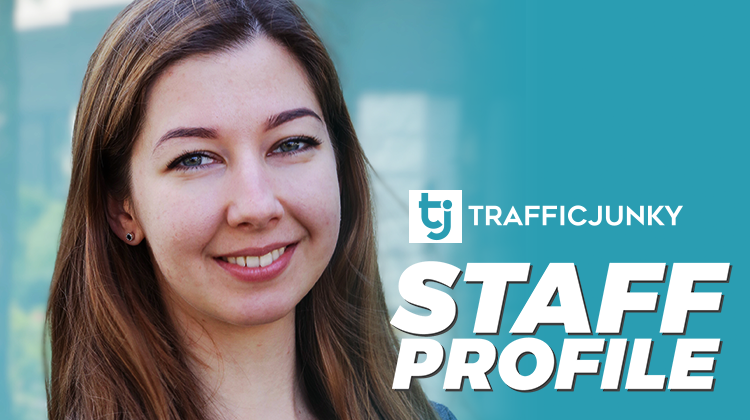 Can't get enough of our staff profiles? No problem! After interviewing TJ's LATAM and APAC Market Development Directors, we went on and sat down with Alexandra, TJ's Europe & CIS Market Development Director, and enjoyed our talk.
Alexandra – we all call her Sasha at TJ – is responsible for Europe & CIS area business development, not only because of her language skills, but also her knowledge and sensitivity on digital marketing.  Should you have any interests or questions, she is available online 24/7:
Skype: alexandra_7184;
Email: Alexandra.Mikhaylova@mindgeek.com.
1. Как долго ты работаешь в TrafficJunky?
Скоро будет год.
2. От куда ты?
Я родилась и закончила университет в России.
3. Какое ондо качество ты бы хотела рассказать о себе?
Внимание к деталям.
4. Что тебе нравится в работе Директора по развитию рынков в Европе?
Общение с огромным количеством людей, установление бизнес связей, познавание чего – то нового каждый день – это и есть самая интересная часть моей работы. Я обожаю решать сложные задачи и не боюсь вызовов.
5. Что тебе больше всего нравится в работе в TJ – ?
Люди, мои коллеги. Мы работаем с лучшими професионалами в своем деле.
6. Несколько советов при создании кампании на TrafficJunky?
Если в чем-то сомневаетесь, дайте мне знать, я онлайн 24/7.
7. Что для тебя показатель успеха кампании?
Высокий ROI, узнаваемость бренда.
8. Как ты помогаешь клиентам достичь успеха?
Я знаю как работать с каждой вертикалью и моментально отвечаю на любые запросы.
---
1. How long have you been with TrafficJunky?
Almost a year.
2. Where are you from?
I was born in Russia.
3. If there's one thing that you'd like to tell us about yourself, what would it be?
Attention to details.
4. What do you like about being Director of Market development Europe?
The best part of my job is that I can communicate with a lot of people, establish great connections and learn something new every day. I like the challenges my role presents me and I am enjoying solving complex problems.
5. What's the best thing of working with TJ?
People, we have the best professionals in digital advertising/marketing.
6. Some suggestions on creating marketing campaigns using TrafficJunky?
If you're in doubt, feel free to contact your manager, and I am available 24/7.
7. What would you consider as a success regarding an ad campaign?
High ROI, brand exposure.
8. What do you do to help customers to achieve successes?
I know what works best for each vertical, and can instantly react to any inquiry.