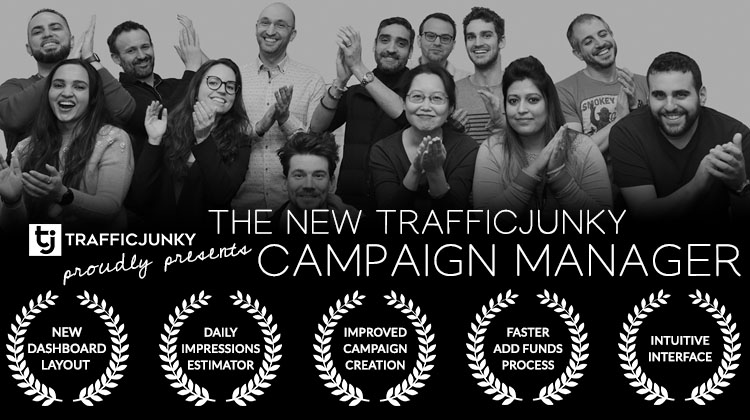 It is finally happening!
The New TrafficJunky Campaign Manager is coming in one week.
Although we have been constantly improving the current TrafficJunky platform, we knew there was something more we could do, something that will bring your user experience to a new level.
So, here it is.
We are proud to present this whole new space to you. In the new Campaign Manager, you will find that creating ad campaigns is that much easier, and managing them that much more insightful.
---
What It Is
If you're new to TrafficJunky, you can probably tell what the new TrafficJunky Campaign Manager is from the name: this is where you can create, adjust and manage your ad campaigns.
And if you're already on TrafficJunky? That's right, the new Campaign Manager is what you'll see after you log in. In this new space, you can create campaigns, check your dashboard, edit your profile, and so on.
Things to Expect 
So, in a week's time, you will enjoy:
 Usability
The new platform just makes everything simple.
To name a few features –
Aiming to create a campaign in less time? You'll only need 2 minutes. Don't forget though, advanced settings are also available whenever you need them.
Know what to expect with Daily Traffic Estimator that dynamically adjusts based on your targeting features and campaign reach.
 Visibility
Insights matter. In order to help you monitor and manage your campaigns better, we make any useful information visible and accessible.
You will see clearly your campaign creation progress and what needs to be done, no matter which step you're at.
The new Dashboard will be your second-in-command. Not only are the fundamental reports at your fingertips (monthly summary, campaign status, daily spend, etc.), you will also be provided with whatever brings your campaign strategy to the next level: recommended spots, trendy keywords, your top campaigns, and so on!
---
Ok, we have to stop naming the new changes and features here… because there is so much to say!
We therefore hand this great opportunity to you – in just several days, you will be able to experience all these exciting new features by yourself!
Meanwhile, keep an eye on our social media for more details!
Can't wait? Get yourself an account first or ask us any other questions.