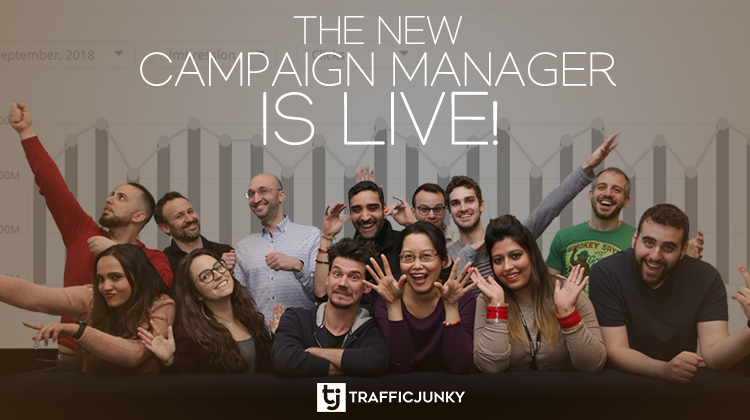 This blog is not relevant as we have upgraded our platform with a new Campaign creation flow. Please refer to the latest article for the tutorial on how to create campaigns on the Campaign Manager.
As you know, The New TrafficJunky Campaign Manager went live on March 4, 2020. Needless to say, we hope you're enjoying the added features and improved usability of the new platform!
As mentioned in our announcement, you will be able to create an ad campaign in less than 5 minutes. Wanna see how it's done? Let's start our TrafficJunky Campaign Creation Guide for Dummies!
(To view the GIFs better, you may zoom in by using "Ctrl" & "+" on your keyboard.
You may also skip 💡FYI sections for only mandatory steps.)
Contents
Step 0. Start a New Campaign
Step 1. Determine the Basic Settings
Step 2. Upload Your Ad
Step 3. Select Ad Spots for Your Campaign
Step 4. Set Your Campaign's Daily Budget
---
Step 0. Start a New Campaign 
After logging into the New Campaign Manager, you can find on the left a blue button in the Side Menu, "New Campaign". Select in the Drop-down list based on the nature of your campaign, whether it's a regular campaign, a cannabis campaign, or a Pop-under campaign.
Here we take a regular campaign as an example.

---
Step 1. Determine the Basic Settings 
After choosing your campaign type, you will officially enter the Campaign Creation area, where your campaign settings will be defined.
💡FYI

On the left hand, as you see, the Side Menu now shows you the progress of this campaign creation. This Progress Menu will clearly indicate what you have completed for your campaign, and what is to be done next.
In Step 1. Create A Campaign page, you are only required to type in your Campaign Name before going to the next step.
This improvement of usability makes it only 10 seconds' long for you to complete the basic configurations of your campaign.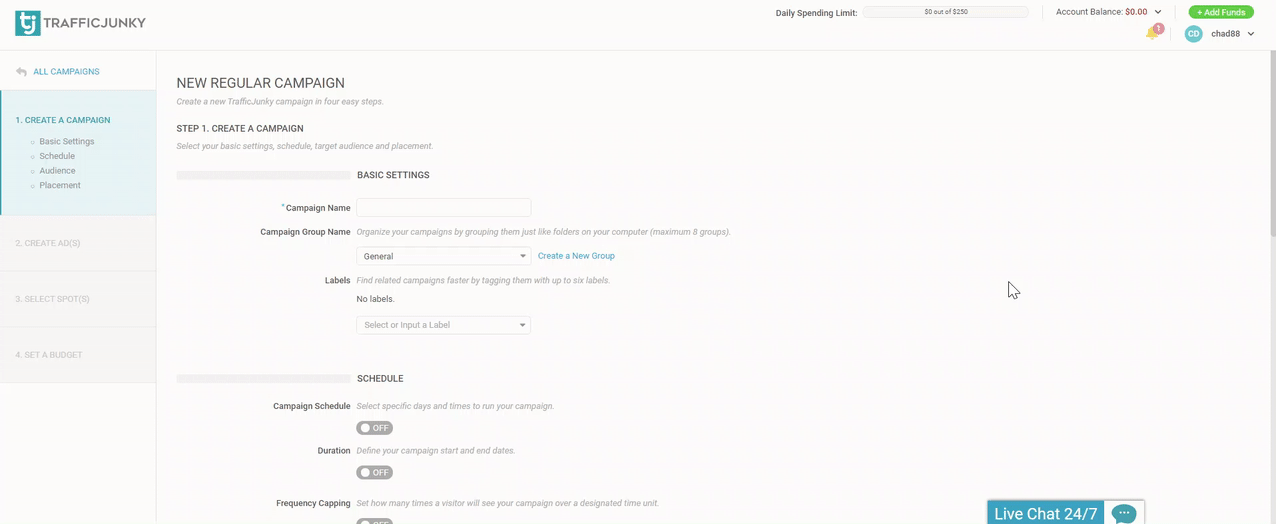 💡FYI

To help you better organize your campaigns, we have added Campaign Group Name and Labels in Basic Settings.

A Campaign Group is just like a folder you have on your computer, to sort files (in this case, campaigns) by their category. Any unsorted campaigns will directly go into the General group, and you can create up to 8 new Groups.

A Label is like a tag, that you can put on different campaigns in order to make your searches faster. Here, you can have up to 6 Labels.

Remember, a campaign can only have ONE Campaign Group Name, but can have MULTIPLE Labels.
Of course, for any more detailed settings in terms of Schedule, Audience or Placement, the short description in grey beside the setting's name will help you understand what to do.
Now that you're done setting up the basics for your campaign, don't forget to hit "Save and Continue", otherwise they will be lost. You can also go to check out all the campaigns that you have created, by clicking on "Back to Campaigns".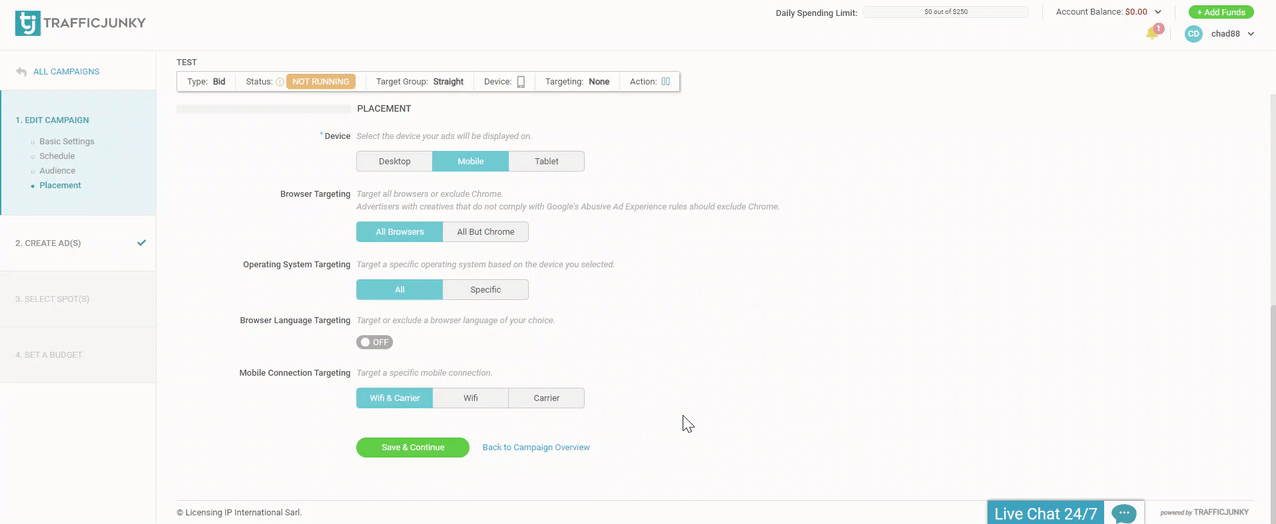 ---
Step 2. Upload Your Ad 
Now you're directed to Step 2. Create Ad(s) page. Please note, the format and dimension you choose has to be the exact same as your ad banner, in order for your banner to be successfully uploaded.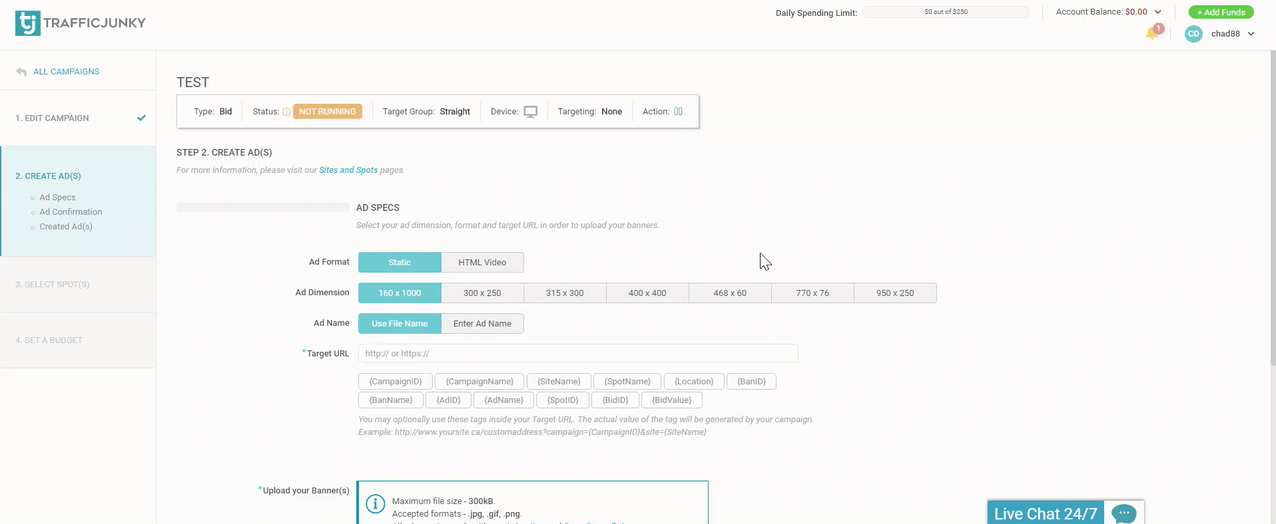 💡FYI

Please note, each campaign can only have one Ad Dimension.

It means that all the ads within the same campaign will follow the same format and dimension of the first uploaded ad. 
Enter the Target URL of your ad. You may use the tags listed below, and they will automatically be generated once you campaign creation is completed.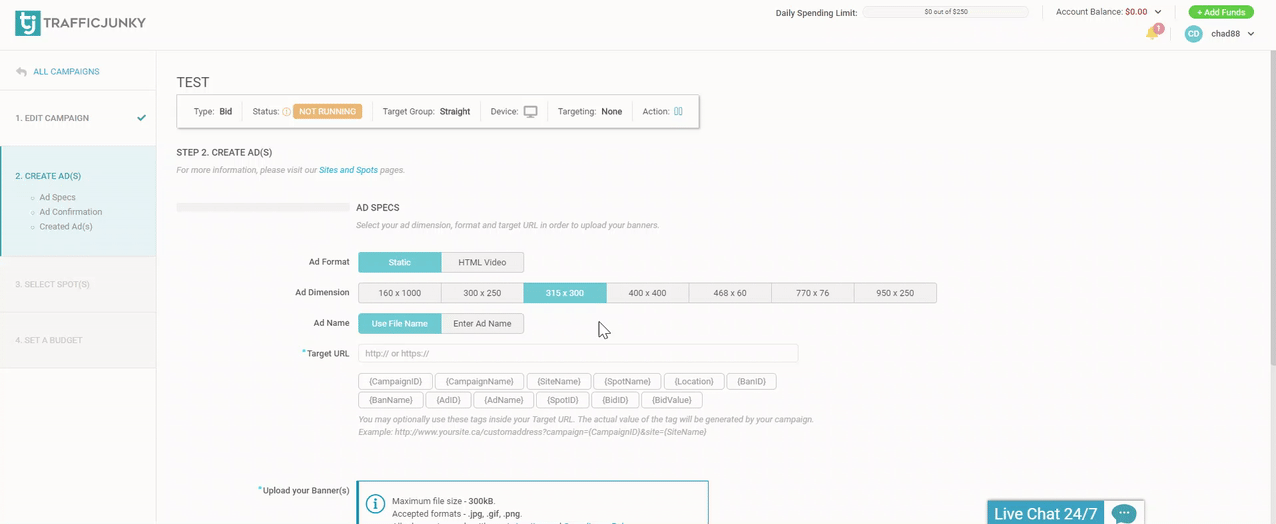 Then, upload your ad banner. You can do that by browsing your computer, or also choose from the banners you have already uploaded before. Here is an example.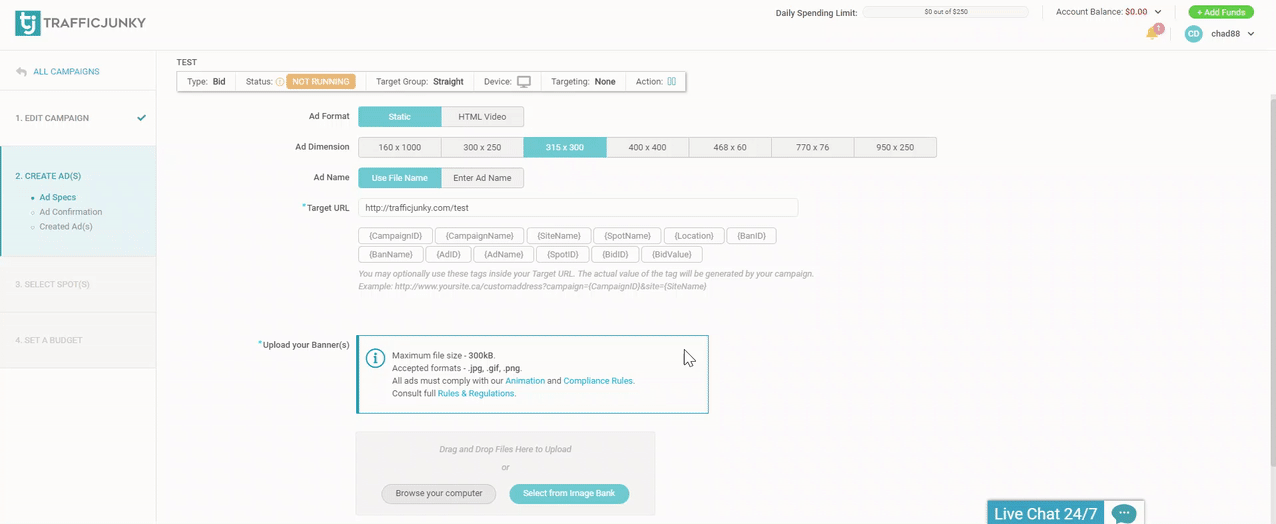 💡FYI

Don't forget to make sure your banners' specs are compliant with the requirements before uploading them.
---
Step 3. Select Ad Spots for Your Campaign 
Congrats, now you're over half-way done! Here in Step 3. Select Spots, you will be able to decide on which sites and ad spots you want your ad banner to be displayed.
By default, we pre-select TrafficJunky's recommended spots for you (you will see a ⭐ there if you unselect them). You can also choose your own spots by checking "Select Specific Spots".
We also automatically adjust your bids in order to make them competitive.

---
Step 4. Set Your Campaign's Daily Budget  
Finally, let's give your campaign its daily budget.
Before we move on, there is a small trick to quickly review your settings so far, if you find the little horizontal bar right below your campaign name.

💡FYI

You can mass edit your bids in the Bid Table.

Hit "Show Bid Table", and select the bids you want to edit by their spots or countries. Now you're able to Edit Selected Bids, either by amount ($) or percentage (%).

You may Resume ▶ or Pause ⏸ them too.
We pre-select Custom daily budget for your campaign, where you can edit your own daily budget. You may choose Unlimited if you want to maximize impressions for your campaign.
As you have probably noticed, there is a Daily Impression Estimator under the maximum daily budget you set. That's correct, by using this Estimator, you will have visibility on approximately how many impressions your campaign will receive, and if it's a good reach.


Voila! Now you have confirmed your campaign and good to go!
💡FYI

More questions? You know you can always ask for help from your Account Manager, or our 24/7 Customer Support team. 😉