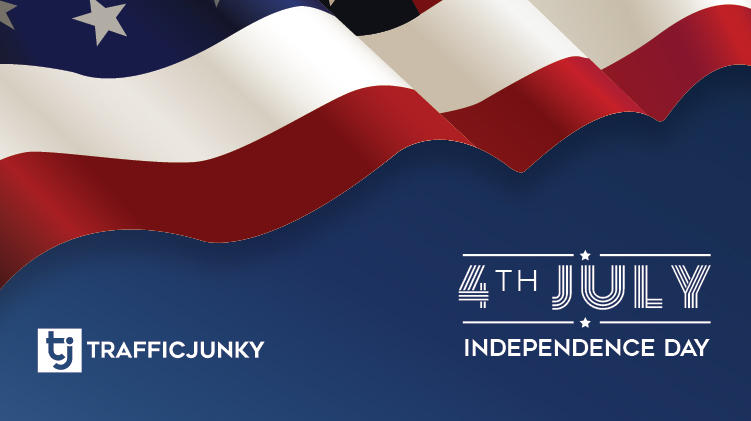 We are here today to help you celebrate Independence Day. This year we are going all out on the 4th of July. First, check out our Social media Platforms to enter our contests to win amazing prizes. Second, we are helping you get the best out of your US campaigns by highlighting everything you need to know to get the best results possible.
If you have not already figured it out, the United States accounts for a massive chunk of our traffic. Whatever you are looking for, PC, Mobile, or Tablet impressions, it is scarce to find a shortage when you are setting your eyes on the good old USA.
For more details on our available ad inventory and prices check out our daily pricing and inventory page – sign-in is required. If you do not have an account yet, you can start here.
Before we get into more details about the US-focused campaigns, here are a few links that you should explore:
These articles are taken from Pornhub Insights and will give you a conspicuous idea on how the US demographic behaves.
Let us get right into int.
The USA – Targeting Features
There is little to no targeting features that you cannot use to target the right audience in the USA. Using our targeting features, you will be able to pinpoint the right audience you are looking for. This a list that summarizes all of the targeting features that you can take advantage of:
City/State/Zip Targeting
Sexual Preference Targeting
Device-Specific Targeting
Frequency Capping *
Keyword Targeting
Time of the Day Targeting
For frequency capping, it is a feature we offer so that you avoid banner burnouts. We got your back!
The USA – In Numbers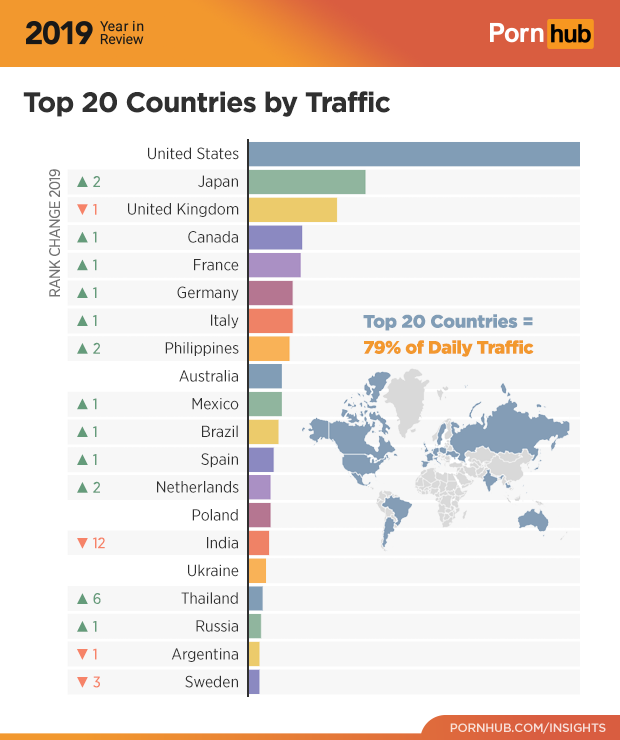 Yes, the United States of America is on top of the list of countries visiting Pornhub.
Since, we are on the topic of numbers, here are some minimum bids for the US:
Pornhub Mobile Header – $0.15
Pornhub PC Footer – $0.11
YouPorn PC Footer Squares – $0.05
We invite you to check our daily pricing and inventory page to get all the numbers you need.
The United States has an adequately fascinating average time staying of 10 minutes 36 seconds. However, some states do truly impress, surpassing the national average time. Visitors from Mississippi stay longer by 50 seconds, along with 37 additional seconds in Alabama and 31 in Georgia. Other visitors from other states do stay less, for instance, visitors Kansas come and go the fastest. But, those 10 minutes and 36s as a nation-wide average time spent secures the 4th spot for the USA in the list of countries with most time spent on Pornhub.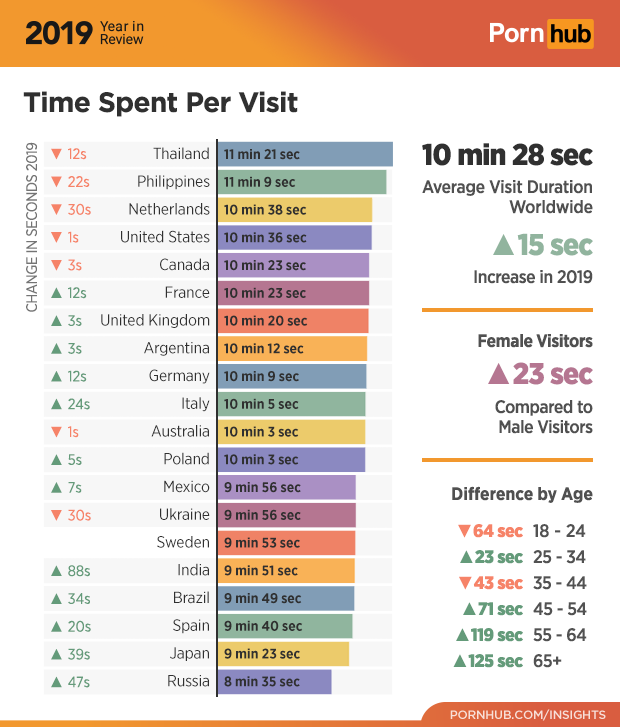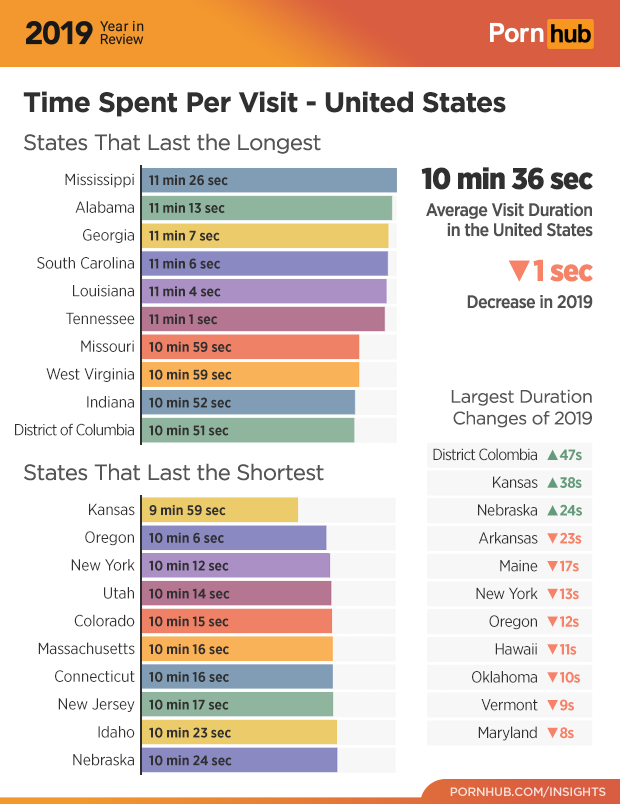 In 2019, "lesbian" was on the top searched categories, as well as, the most viewed category in the United States. The category shot up 15 rank positions to get to number one. Other most viewed categories included hentai, ebony, and, Asian. The most searched terms in 2019 included ASRM, best friends, and BDSM. Using the keywords targeting feature and the most searched keywords in the US it will be very easy to target the right audience. You can also the most viewed categories as keywords for target the audience you would want to see your ads. The following figure shows a combination of interesting stats.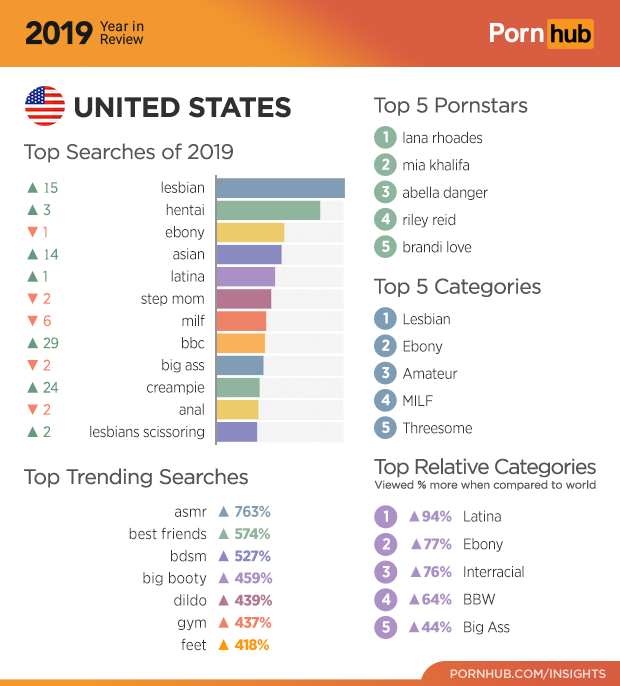 Since we want you to make the most out of your US campaigns; Let's take a look at how holidays change the traffic. So, if you are planning any campaigns around the holidays, you know what you are working with.
New Year's Eve caused the most drop in traffic for the holidays in the US. Second, it will be Christmas Eve which is understandable as people will be spending way much less time on their screens. The decrease in traffic continues on Christmas day, as well. Valentine's Day, however, records an 8% in traffic. Black Friday also records an increase in traffic. So, now, when you are planning any campaigns around the holidays, you can account for such changes in traffic and make them work to your advantage.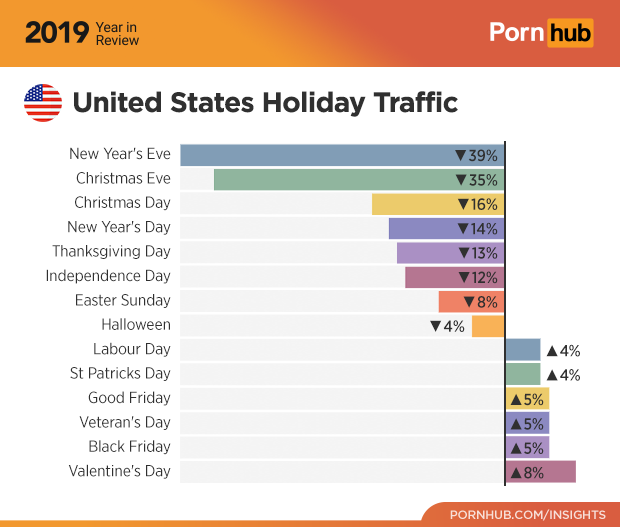 For our next part, we will be looking at the traffic per mobile device. In the US 80% of traffic is on mobiles, so we recommend following the mobile-first approach when designing the creatives for your campaigns. Also, you can make sure that your creatives take advantage of the native features of mobile devices. Here is a breakdown for US traffic per device.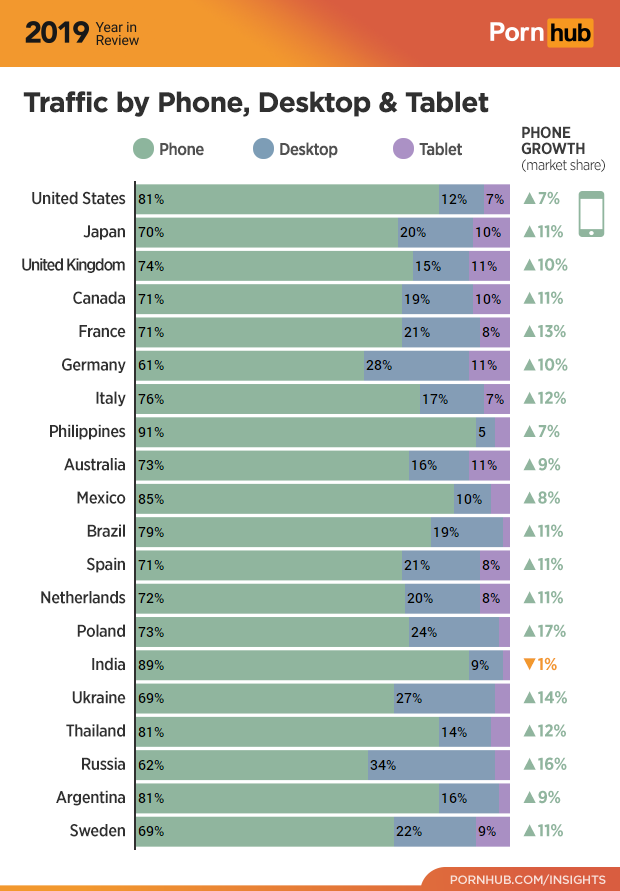 Now, let's talk about demographics. The average age for a visitor from the United States is 39. The age group of 25 to 34 is accounting for 32% of the visits, and the age group 65+ accounts for 6% of the traffic.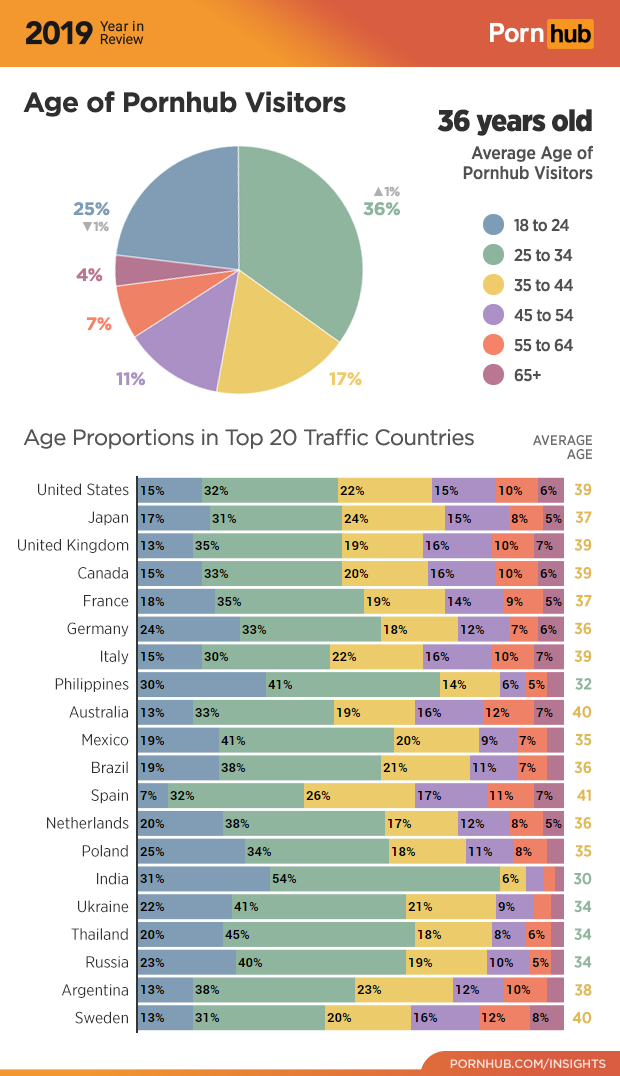 As for the gender, the US has more male visitors than female ones. The male visitors account for 70% of the visits. The female visitors from the US recorded an increase of 1% compared to 2018, and they account for 30% of total visits. And in the spirit of celebrating females, here's a breakdown of the searched categories state by state: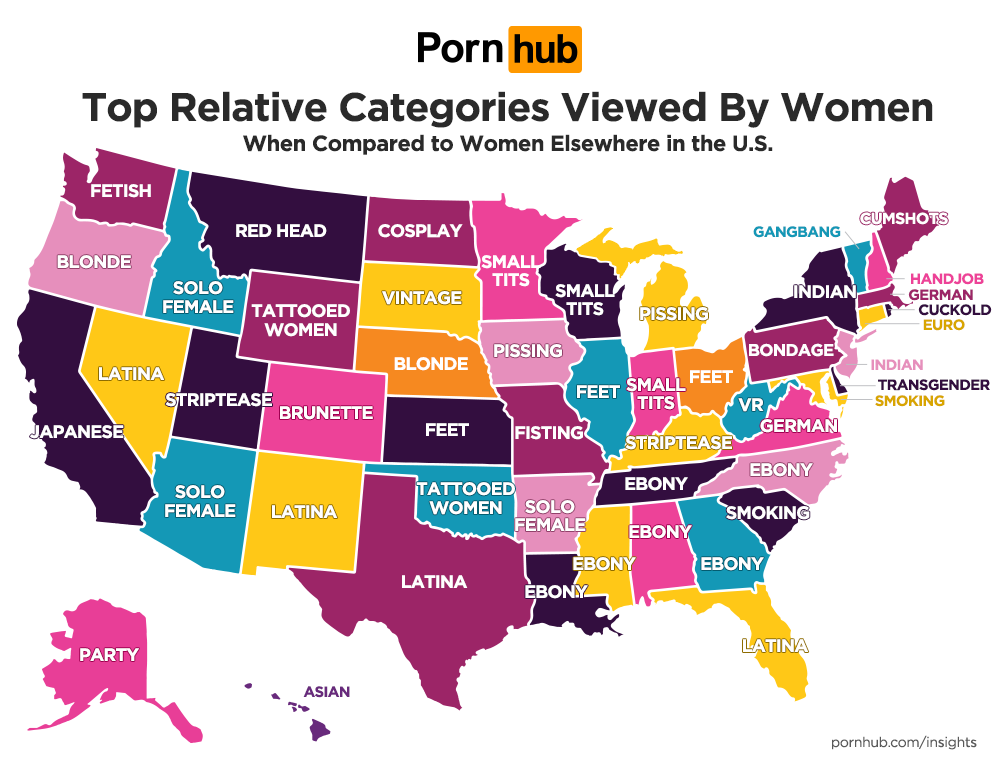 That is it, folks! all of this information you are all set and ready to build a very successful US campaign. Happy Independence Day!
Don't forget to check our social media pages to participate in our Independence Day contest to run a chance to win either a 52$ or a 244$ Bonus Funds.