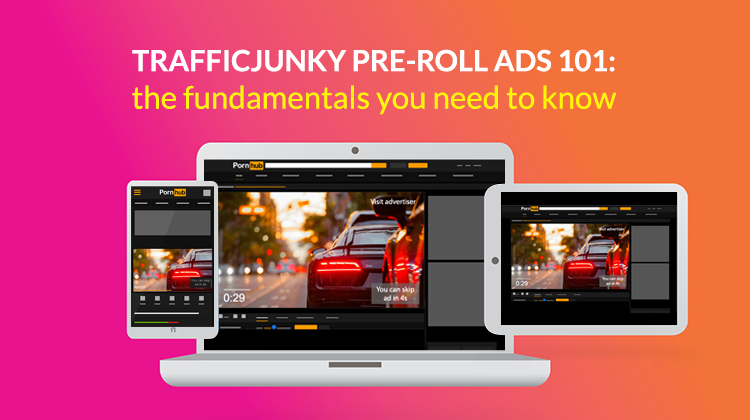 Have you seen video ads that display prior to a featured video online?
These are In-Stream Video Ads. At TrafficJunky, in-stream video ads yield some of the best results for our advertisers and have high conversion rates.
TJ ad network serves over 50 million daily in-stream video ads on premium sites such as Pornhub, YouPorn, Redtube, etc. These ads are compatible with all major video formats and are customizable with clickable CTAs (Call-to-Action).
In this blog, you will find useful information for your In-Stream Video campaigns, so that it gets you an easy start!
Contents
Overview
Sites
Specs
Behavior
VAST
FAQ
Contact
---
Overview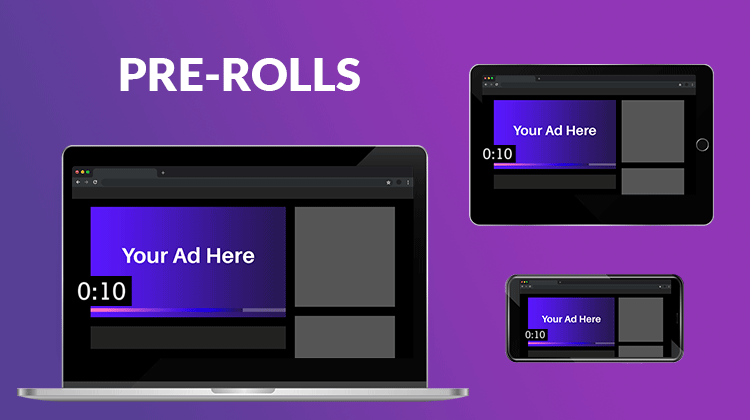 Pre-roll ads nowadays are very common on the Internet and familiar to different audiences. It's also a very promising ad format for advertisers and here is why:
According to a Google Ads report in 2018, pre-roll ads are 3 times less likely to be interruptive than banner ads, which makes it much more effective.
Trafficjunky pre-roll ads have 5-10% average CTR on PC, and are great for Branding, Retargeting and Performance campaigns. With the pricing 1/10 of YouTube's, it is without a doubt a very good investment to have.
We typically see businesses in verticals such as Cams, Health & Wellness, Casino, Poker and mobile apps receive outstanding results in their pre-roll campaigns.
Looking to get in-person help on the premium ad inventory? Reach out to an expert at prerolls@trafficjunky.com.
Sites 
TrafficJukny provides pre-roll ads on:

Specs
o Aspect Ratio
16:9
o  Accepted Video formats
.MP4, .MOV, .WMN, .AVI, VAST
o  Suggested maximum file size
500MB
o  Max Video Length
30secs
o  Recommended resolution
1080p
Behavior
1. Pre-roll ads automatically display prior to the second video.
2. The skip button appears after 5 seconds.
3. Frequency cap: by default, pre-roll ads appear once every 24 hours.
4. Full-clicks are offered on PC devices.
VAST
o  Supported VAST features:
Multiple tracking events: firstQuartile, midpoint, thirdQuartile, complete, mute, unmute, pause, resume, fullscreen, skip.
Pixel Tracking
Multiple Ads with different Ad weights
o  Unsupported VAST Tags:
<Wrapper></Wrapper>, <AdVerifications></AdVerifications>, <Verifications></Verifications>, <CompanionAds></CompanionAds>, <Companion></Companion>, <Icons></Icons>, <Icon><Icon>
o  Unsupported VAST Features:
"sequence" attribute
"conditionalAd" attribute
Nonlinear Ads
FAQs
What pre-roll stats do you provide?
Our team can create reports on play, click, skip and finish statistics. You can also access to live report on TrafficJunky Dashboard after logging in.
Do you support 'Calls to Action' (CTA)?
We support either 'Visit Advertiser' by default or custom text.
Do you accept VAST / VPAID?
TrafficJunky accepts any VAST up to VAST 4. We do not accept VPAID.
When should my video assets be delivered to TrafficJunky?
All videos and links must be sent 2 business days before the launch date.
Any changes to live campaigns will require 2 business days to update.
Who to Contact
Our awesome Premium team is always ready to help. Reach out to them at prerolls@trafficjunky.com or talk to your rep for more information.