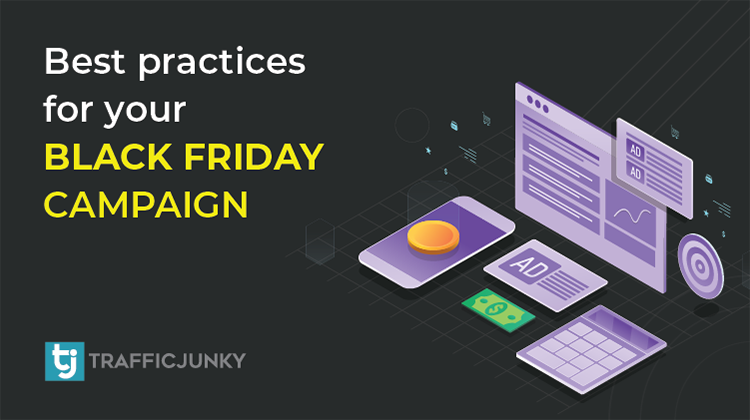 During Black Friday, shoppers all over the world jump on seasonal sales in preparation for the holidays. In 2021, US consumers generated $33.9B in sales to collectively spend $12M every minute. This Black Friday, TrafficJunky is giving the gift of tips and tricks for advertising on the biggest buying weekend of the year. 
Create competitive ads that incentivize customers to act.
Keep an eye on your competitors. What are they doing to capitalize on this revenue opportunity?
Text in your ads should provide a CTA, demonstrate urgency of the opportunity, and communicate the value of your product and/or brand. Use language such as: Black Friday, deals, discounts, specials, free, and don't miss out!
Make it easy for customers to say "Yes!" to your product or service.
Start your Black Friday campaigns early. Advertising in advance allows customers to take advantage of your promotions.
Consider offering discounts, free trials, or reduced rates.
Use fresh, engaging creatives that visually communicate the offer you have and why a customer should act on it.
Add promo codes to your creatives and landing pages to facilitate continuity to the user experience.
Your creatives are what will draw potential customers' eyes. Make them count!
Use Black Friday themed creatives to match your Black Friday promotions.
Use timers in your creatives or landing pages to encourage your customers to act with a running deadline.
Ensure that text in your creatives matches the language of the country you are advertising to.
Focus on sources that allow you to use animation or video files to capture users' attention, such as prerolls or display ads. 15-30 second videos offer you the creativity to give viewers a taste of your product. Alternatively, adding animation to display ads will help bring them to life. Learn more about how to use animations here.
The Black Friday fun doesn't have to end when your promos do. Here are some ways that advertisers can use Black Friday activity to benefit your future campaigns.
Utilize logos and branding in your creatives to encourage brand awareness and recognition.
Add retargeting pixels to your sign-up page and throughout your conversion funnel so you can retarget users across all ad-units using separate creatives.
As always, reach out to TrafficJunky, either to your AM or to TJCC, with any questions, comments, or concerns. We're here to help!