If you've consulted PornHub's Insights page, you've certainly come across the slew of popular search terms used by visitors around the world.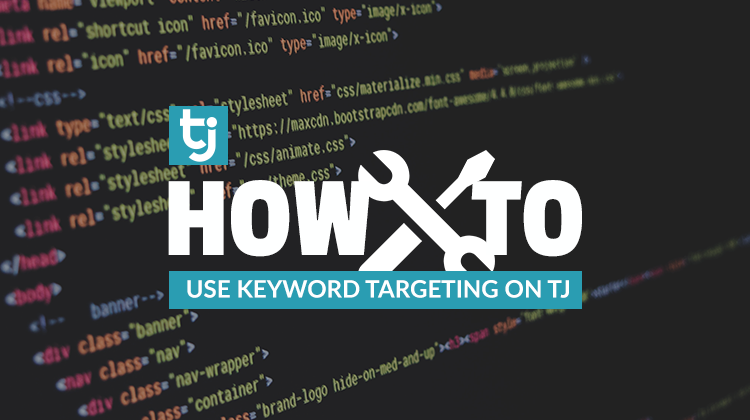 Those search terms are called keywords on the TrafficJunky advertising platform. One of our advanced targeting options which will enable your campaign to appear when a particular keyword is searched.
Now, just because you have the option to select the keywords yourself it doesn't mean you're doing it right. If you'd like to follow along, sign in to your TrafficJunky account and hit the + New Campaign button directly from your dashboard.
Here's what NOT to do:
Contrary to what you might think, the keywords selected should not be equivalent to something you would search for on Google.
Selecting these types of keywords will prevent your campaign from receiving any traffic whatsoever since they are not common search terms.
Here's what you SHOULD do:
See what happens when we type in a popular search term in our Select Keyword bar? TrafficJunky instantly populates a list of suitable keywords and helps you determine their relevance and the type of volume you should expect.
Remember the aforementioned PornHub's Insights page? That's where you'll find the top searched terms per location and product.
Keep in mind that not all offers should use keyword targeting, if you do not have an adult product and want to test out the feature, we suggest a separate small budget campaign with search terms related to your offer.
Here's one more thing you SHOULD do:
See what happens when we start typing a popular keyword in the PornHub search bar? The site automatically suggests a few more terms based on what you started typing. Try out this bonus trick if you're looking for keyword inspiration.
In conclusion, using keywords–or search terms as I mentioned above–is useful when targeting a specific audience. One keyword will limit the traffic your campaign receives, too many will be counter productive and target the wrong audience. Make sure you strike that perfect balance by adding popular, high-volume keywords in order to ensure you drive traffic to your campaign.
Still unsure about keywords? We're here to help, reach out to one of our support representatives or comment down below!