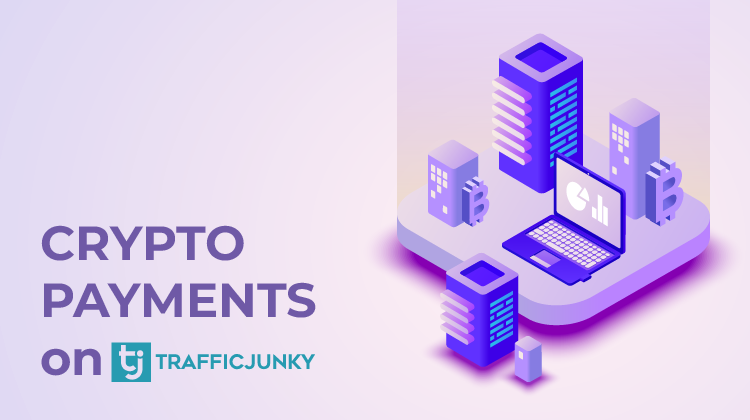 Are you facing any challenges with cross-border payments? Cross-border payments can be slow, costly, and less transparent than domestic payments. A solution that ensures the security of your money? Cryptocurrency.
Is the YOTI Verification required for this payment method?
Why You Should be Using Crypto for Your Payments
Prerequisites and Good to Knows
Is the YOTI Verification required for this payment method?
Yes, a successful YOTI Verification is required to use this payment method. Check out this blog post for everything you need to know about YOTI and how to verify your TrafficJunky account.
What is Cryptocurrency?
Cryptocurrency is a virtual or digital currency that gets used to make online and offline purchases. It can be mined using a PC or purchased online and stored in the 'Coin Wallet.' When users make a purchase, they need to enter an alpha-numeric code to transfer the funds, making it safe and secure. For more information on crypto wallets, how they keep your money safe, and guidance on how to choose the right one click here.
Why You Should Be Using Crypto for Your Payments
User expectations have risen as users and businesses want more convenient and faster payment methods. Cryptocurrencies have gained popularity due to several factors: convenience, privacy, security, focus on anonymity, and lower transaction fees are driving factors of the growing trend. Cross-border payments can be offered at improved speed, transparency, and cost.
How do Crypto payments work on TrafficJunky?
TrafficJunky uses Probiller, a secure online payment solution, to handle transactions of cryptocurrency from NOWPayments, an industry leading payment gateway and crypto wallet.
Prerequisites and Good to Knows
Minimum Payment – 250 USD.
Maximum Payment – 1000 USD.
Available for all geos unless restricted by NOWPayments.
There is a daily crypto transaction limit of 1 every 24hrs.
Payment processing time: A minimum of 1hr. In some cases, the payments may take upwards of 24hrs to process. If you haven't received your funds after 24hrs, please reach out to support@trafficjunky.com
Save the payment ID of your transactions for future reference.
Accepted crypto coins for the transaction.
Note! Confirm that the coin you wish to pay with is accepted: go to Account Funding page of your account, select crypto as your payment method, scroll down to 3. Crypto Currency and use the drop down to see the accepted crypto coins.
How to Make a Crypto Payment
Sign into your TrafficJunky account. Go to the Account Funding/Add Funds page and select Cryptocurrency as your payment method.
Enter the amount your wish to pay or select one of the suggested amounts.
(Optional) By default, TrafficJunky uses the billing information in your profile. Click the check box to reveal the Billing Information section. Now you can manually enter your billing information for this transaction.
Select the Cryptocurrency coin you want to use from the drop down.
Click Load Your Account (found on the right side of the page). You will be redirected to the NOWPayments Gateway.
From the gateway, click the What to do next? section at the bottom to get details on how to complete the payment. Keep this page open until you have completed the payment, and save the payment ID for future reference.
Questions, comments, or concerns? Don't hesitate to reach out to support@trafficjunky.com