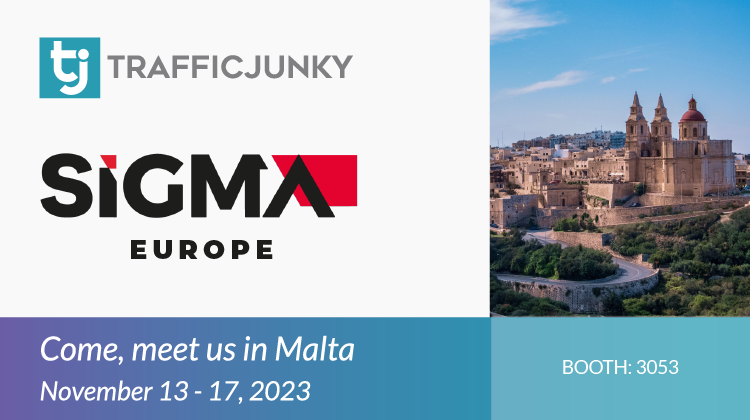 Want to know how you can take your iGaming and Betting platform to the next level? Come talk to TrafficJunky representatives at SiGMA Europe!
📆 When: November 13th – 17th, 2023
🌍 Where: Malta
Why SiGMA?
SiGMA is one of THE premier gaming conferences in the world – bringing together industry titans to discuss industry trends.
Why TrafficJunky?
As someone working in the iGaming and Casino industry, you're well aware of the value of making informed bets. Why not try your luck with TrafficJunky and maximize the impact of your advertising budget? We specialize in delivering scalable, cost-effective campaigns.
A significant portion of TrafficJunky's clientele consists of esteemed iGaming and Casino industry players. With a track record that includes collaborations with industry titans like 888Poker and bet365, we offer an unwavering commitment, compliance expertise, cutting-edge optimization tools, and dedicated support, all aimed at helping you achieve the highest return on your investment.
Meet Us at SiGMA Malta
Come chat with us at Booth 3053. We'll answer questions, share insights, and help you find tailored solutions.
🗓️ Schedule a Meeting 🗓️
Ensure you make the most of your visit by booking a 1:1 meeting with our Sales Team in advance.
Rodrigo Franco – Head of iGaming
Christopher Marra – Director of Sales Team
Vince Perniola – Account Manager
🆓 FREE Ticket Giveaway: Save Up to 400 Euros!
Claim your FREE ticket to SiGMA Malta and save up to 400 euros by filling out this simple form.
Please note: The giveaway covers the cost of the event ticket only and does not include travel or accommodation expenses.
Can't Secure a Meeting in Advance?
Worry not! Leave your info here and we'll follow up after the event.
However, that's just the beginning! Don't forget to get your hands on our exclusive branded merchandise.
Countdown to SiGMA Malta has begun – Get ready to power up your ads game!