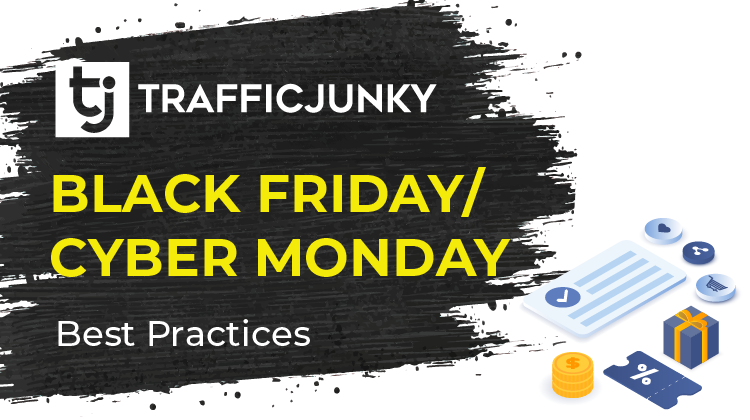 Did you know that Black Friday 2022 saw a 2.3% increase in sales from the previous year, with a whopping $9.12 billion spent online? Whether your potential customers are working off their Turkey Coma from Thanksgiving or simply on the prowl for holiday deals, Black Friday is a powerful opportunity to supercharge your advertisements. Cash in on the biggest shopping season of the year, and check out our Black Friday Best Practices.
Why Advertise with TrafficJunky Black Friday 2023
Why You Should Tailor Your Campaigns to Seasonal Promos 
Why Advertise with TrafficJunky for Black Friday 2023
We've got the Holy Trinity: Data, Tools, and Game-Changing Deals
Data: We've crunched the numbers, and TrafficJunky, as a network, saw a 4% increase in clicks during BF week as compared to the rest of 2022.
Tools: We've got it all! Everything an advertiser would need to set up dynamic campaigns, target their audience, and convert shoppers. Check out our blog to learn more about how TrafficJunky can help you achieve your advertising goals.
Game-changing Deals: A secret surprise you won't want to miss, we promise! Sign up with TrafficJunky and be the first to hear about it.
Why Tailor Your Campaigns to Seasonal Promos
Wouldn't you agree that every holiday or promo season has a different tone? Christmas is cozy and warm, with presents under the Christmas Tree. New Year's Eve is a big party for new beginnings. What about Black Friday? Chaos at its finest, once-in-a-lifetime deals, fighting with a granny for a TV. Don't you all miss it?
Although this article is about Black Friday best practices, tailoring your campaigns is relevant for any season. Customizing your campaigns to match promotional seasons allows you to tap into user behavior, preferences, and purchasing patterns. It's almost like a cheat sheet to get a surge in sales.
Segmenting Your Audience
Why is audience segmentation important? Depending upon the product or service you're selling, think about the kinds of people who would be interested in them. Make customer personas and target them efficiently with our optimization tools.
Demographics: What is your target customer segment? Categorize and target them by – age, gender, geolocations, or even income levels
Defining your target audience lets you tailor your messaging and sales funnel to meet their specific needs, build a connection with your customers, and increase your conversions. For instance, after implementing market segmentation, Contributors to Convince&Convert saw an 89% increase in conversions on their e-commerce website. 
Optimize your budget and get your brand in front of the right people at the right times. Find what works best for you and plan your campaigns accordingly.
Encourage Customers to Buy
How does the saying go, if you don't plan to succeed, you will plan to fail? Success starts with smart advertising, start today! or Start your journey towards success by embracing strategic advertising today
Generate Urgency: Black Friday is a time of short-lived but massive deals. Generate a sense of scarcity by emphasizing limited stock and a quickly closing window of opportunity. Use flash sales and limited time deals to capitalize on this chaos.
Optimize Landing Pages: Make sure your landing pages convey a clear message about your deals and make it convenient for them to buy your products or services. The last thing you want is poor messaging or user experience sabotaging all of your hard work.
Special Black Friday Creatives: Now is the time to switch it up! Use dynamic, attention-grabbing creatives to catch the focus of consumers not expecting a deal of the year!
Retargeting: See things from your shopper's perspective who is interested in purchasing something but hasn't sealed the deal yet. What might be holding them back – maybe it's the price, lack of information, or they need time to decide. Ensure your customers' journey is smooth and seamless to funnel them through.

We're clutching our pearls in anticipation of Black Friday 2023, a shopping season that 80% of shoppers plan to take advantage of, with 65% of customers being online. Keep these Black Friday best practices in mind, and don't hesitate to reach out to support@trafficjunky.com for any questions, comments, or concerns. Let's reach our Black Friday goals together.