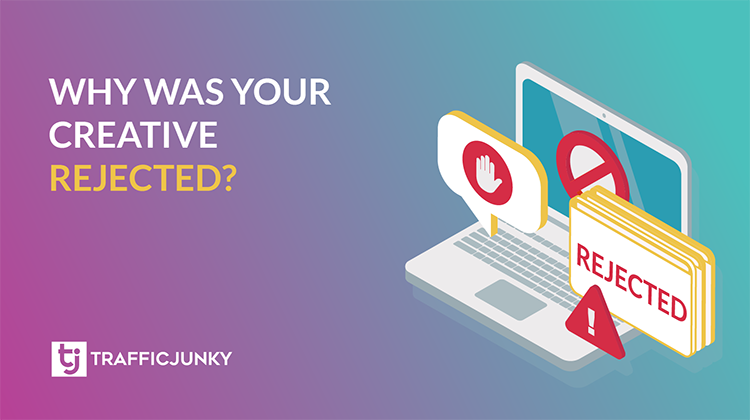 There are several reasons why your creative may be rejected. We are here to help you understand why, so you can re-upload compliant creatives in the future!
How to Check Your Creative Rejection Reason(s)
With the launch of TJ DSP you will find your rejected creatives with a compliance flag under the Rejected Tab in the Media Library.
Media Library makes it easy to upload and store images creatives and video creatives. Manage everything in a single place. It modernizes the creative(s) upload and storing process ad approval process to let our platform users save time and scale campaigns. You can upload a maximum of 100 creatives at once. Here, you can check previously-stored creatives in different sections under Static Banner, Video Banner, Overlay Logo, and Rejected creative.
Rejected ad creatives do not comply with our Rules & Regulations.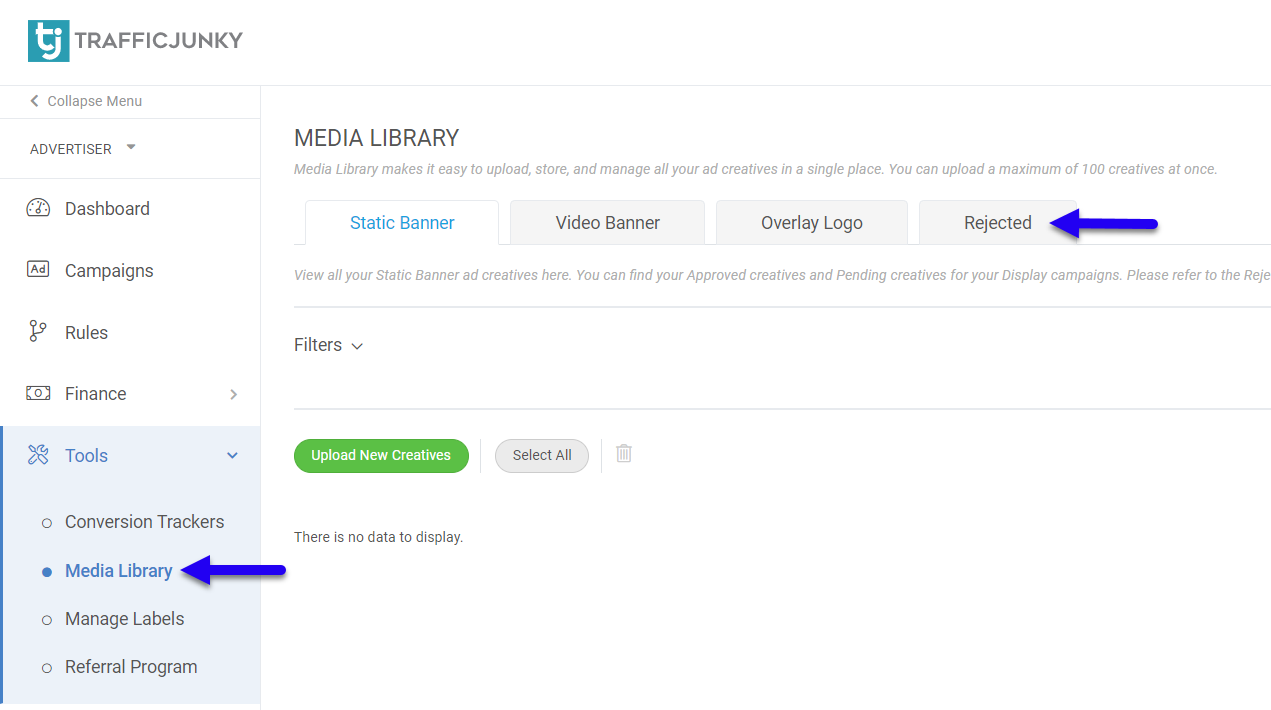 The Rejected tab inside the Media Library lets you know why the creative(s) got rejected by showing all the information related to compliance flags.
Let's walk you through some of the compliance flags. Creatives can get rejected for one or many reasons from the list.
6 Major Rejection reasons
1) Copyright infringement – The use of creative of copyright-protected material without the permission of the copyright owner. The U.S. Copyright Office defines copyright infringement as such: "As a general matter, copyright infringement occurs when a copyrighted work is reproduced, distributed, performed, publicly displayed, or made into a derivative work without the permission of the copyright owner." [1]
Creatives are rejected for copyright infringement if the IP owner reports it. Do not use materials on your ad without the permission of the copyright owner. Do not use other company logos in your creative. Reupload a unique creative that is relevant to your brand to be compliant on our platform.
2) Digital Millennium Copyright Act (DMCA) – A law that addresses online copyright infringement in a way that balances the interests of the copyright owners, online service providers, and internet users to protect copyright owners from violation of their works. A DMCA takedown allows a copyright owner who believes someone has posted infringement of their work to remove the ad from our platform without the hassle of filing an infringement lawsuit.
Creatives are rejected for DMCA if the IP owner reports it and provides proof of ownership of the content. To avoid DMCA, never use any material or content that is not licensed or owned by you. Reupload an ad that is compliant with our platform.
3) Creative infringement – If your creative(s) get rejected under the creative infringement flag, it means that the creative(s) did not meet Safeguard's guidelines. As part of our continuous effort to make our platform a safer place, we have added Safeguard as an additional layer that continuously screens uploaded creatives to ensure they are compliant with industry safety standards.
In the Media Libary's rejected tab, you can filter your rejected creatives by the "Creative infringement" flag to see which ones have been rejected by Safeguard. When your creative(s) are rejected, we will notify you by email. Please keep in mind that once a creative is rejected, you will not be able to upload it again.
4) Technical issues – Several factors fall under technical problems with the creative. If there are technical issues detected during the review process or if the file was corrupted, and the creative is not loading, the creative will get rejected. Check the notes provided under the rejected creative, and if you have further questions, please contact the Support team.
5) Content violates site rules – Applies to creatives that do not comply with Rules and Regulations of TrafficJunky. We strictly maintain our advertising rules on our platform to diminish misleading content that might harm the visitors' experience on our premium publisher sites.
Some examples of content violation:
The creative does not comply with our site animation rules
The creative contains a blacklisted text
The creative includes a misleading CTA button
The creative comprises colors of our publisher sites
Before reuploading another creative, please visit our Rules & Regulations page for more information.
6) No Text or No Logo – Applies to the creative that only contains an image, video, or animation without any text or logo will get rejected.
Reupload another creative that looks like an advertisement.
If a creative gets rejected once, that same creative cannot be reuploaded again on TrafficJunky Campaign Manager. We recommend checking the Rejected tab in the Media Library to learn which compliance issue caused the creative rejection. Upload another creative that complies with our site's rules and regulations to start your campaign.