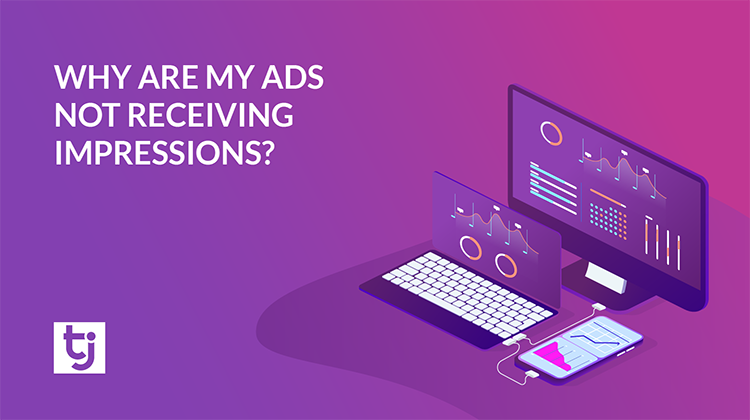 TrafficJunky offers multiple features and functionalities to advertisers to optimize their ads' performance. With the launch of TJ DSP, we are giving advertisers more powerful tools to reach a qualified audience for their campaigns. However, in some cases, ads might not receive impressions. Let's dive into and talk about some of the most common reasons why your ads might not receive impressions and how to fix it.
Reasons why your

a

ds are not receiving impressions
Budget limitation on the daily budget for campaigns will stop the ad from running and receiving impressions after reaching the max daily budget. Adjusting the budget can ensure ads to keep running to receive more impressions.
The bid is too low. The bid amounts allows your ads to receive impressions based on campaign settings and other advertisers bid in the real-time auction. Bid adjustments increase the chances of winning the auction to show ads to the desired audience and receive impressions accordingly.
Poor targeting. Targeting features allow your ads to show to the right user at the right time and place. Incorrect use of targeting features can lead to less or no impressions on ads.
Using non-contextual keywords and overloading campaign with irrelevant keywords can reduce or stop impressions on ads. If the keywords selected in a campaign are not found in the tube site's content, the ad won't receive impressions. Keywords are associated with search terms on our tube site's search engine and tags on the video contents. Use a few relevant keywords to increase the ads' chances to appear to the targeted audience and receive more impressions.
An ad could be excluded by the Autopilot (if activated during campaign creation) due to bad performance. Autopilot is a feature that optimizes the ads in your campaign by conversion. If it's ON and an ad isn't receiving conversions, the Autopilot will take it out of the rotation.
Animated ads won't run on sources that don't accept animation. Our platform does not allow you to run animated ads for all sources. There are two types of animation ads allowed on our platform: Full animation and 2-second animation. Check our Rules & Regulations page to learn more about which source allows what type of animation.
TrafficJunky is dedicated to customer success, and we are always there to help you optimize your campaigns. Let's walk you through how you can improve your ads' impressions by following the appropriate steps to your campaign.
Adjusting bid and budget
Advertisers get to set their max daily budget and max bid amount for their campaigns in Step 3 of the campaign creation process.
When you create a campaign, you are entering an auction against other advertisers who want to show their ads on our premium publisher sites. It's a competitive marketplace. The highest bidder will get impressions. So, if your bid amount is too low, your ads will not get as many impressions as you would expect.
Max bid is the maximum amount you want TJ DSP to pay per impression. Set the Max bid amount accordingly, and the algorithm will adjust the cost per impression and not exceed the Max bid amount. 
Based on the goal of the campaign and the impression objective, set your daily max budget accordingly. If you include many sources for your ad to show, remember to re-adjust the budget to avoid the daily max budget to run out. Ads stop receiving impressions if the campaign reaches the max daily budget.
Optimize your CPM
Two ways to optimize your CPM:
During the campaign creation process
After the campaign creation process, when your ads are live
Let's start with how you can optimize your CPM per source when you create the campaign.
1) During your campaign creation process, on Step 4, you will have the option to turn ON and OFF the "Manual Source Selection."
Above the manual source selection feature, if the Bidder feature toggle is turned OFF, then, by turning ON manual optimization, you can target specific sources and edit the CPM. If the Bidder is turned ON, you cannot edit the CPM manually.
On the next step, Step 5 of campaign creation, a table will show the details per source. Select sources you want to include to show your ad. On the right side of the table, there are two columns: Min CPM and Your CPM.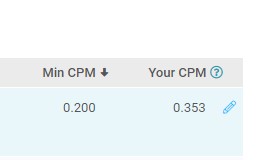 "Min CPM" is the minimum price required for the respective source. The minimum CPM is the lowest price accepted. The system places a suggested bid. Your CPM amount cannot be lower than the Min CPM. We recommend you bid 10% to 25% higher than the min bid.
"Your CPM" will be pre-set by the system to a competitive bid to help you get the impressions you want. You can manually edit the amount in "Your CPM" by clicking the pencil icon to edit.
2) You can optimize their ads that are currently running live. If you are not receiving impressions, we have made some editing functions available on TJ DSP. Note: you must have Manual Source Selection turned ON when you initially created the campaign. If not, the following steps would not work.
Follow these steps:
1) Go to the Campaigns page where you can view an overview of all your campaigns.
2) Select the campaign name you want to edit.
3) On the next page, you will see the Sources tab. Click the "+New Sources" button
4) You will get redirected to Step 5 of the campaign settings. The table will show a list of details per source.
Now you can include or exclude source(s) manually from the table. Edit the bid amount in the Your CPM column. Use the pencil icon to edit. Apply the same best practices mentioned above for "Your CPM." It's then a matter of trial and error with manually editing your bid to test if increasing the bid amount to a more competitive price increases your impressions.
Utilize targeting features to receive better impressions on your ad
Targeting determines the ad to be shown to the right audience.
TrafficJunky offers various targeting features to suit your advertising needs. Effective use of targeting features not only shows the ads to the desired audience but also increases the opportunity for ads to be clicked.
Geo-targeting is a required selection during campaign creation. Choose precise geo-location where you have your target audience to get qualified impressions for your ads. On TJ DSP, in your new campaign creation process, you can target one country per campaign. Additionally, you can add a maximum of 50 regions and cities per country you target.
What else could you do to receive better impressions, you may ask? The answer is the proper use of contextual keyword targeting.
What keywords do you think are relevant to your campaign? Relevant and contextual keywords and tags that are related to the ad will make your ad appear with the appropriate video content on your selected sources, which may increase audience engagement opportunities.
Use limited and effective keywords only for targeting; make a list. If you don't have a list, brainstorm and make a list of multiple keywords. If you do have a list, let's narrow it down. Entering too many keywords and irrelevant keywords can lower impressions of the ads.
Based on the list you created, ask yourself and your team whether the audience will search for that keyword on our premium tube site sources where your ads will show? If the answer is "No," remove that keyword from that list. It would be best to choose the right keywords you think are relevant to your campaign. From that narrowed down list, it's a matter of A/B testing those keywords on different campaigns to test which keyword on which campaign is receiving more traffic.
You can also have the option to exclude keywords on TJ DSP. Keyword exclusion or negative keywords lets you exclude search terms or tags from the campaign. It prohibits the system from showing your ads next to video content that includes that excluded word. That way, you don't get unwanted impressions. Get the bang for your buck by targeting the right audience only.
Here are two examples of how to use keyword targeting:
1) Let's say you are advertising a sexual wellness product for male target groups. You want to target an audience of men who are more likely to engage with an ad related to pleasure-enhancers or lotions and lubricants. Think like a consumer and figure out whether or not the consumer of the video content on our tube sites will be interested in the ad or not. Make search term and tag related keywords for targeting that audience to receive impressions. For example, you can target keywords like "ejaculation" or "semen."
2) If you want to target the Transgender audience with your ad, then on the campaign settings, select "Straight" in the target group targeting and write "Trans" in the keyword targeting section.
Determine which keywords are working best for your ads and keep optimizing for more impressions.
Benefits of Campaign Optimization
Impressions statistics for an ad is an adequate way of evaluating the performance of the campaign settings. Therefore, adjusting daily budget and bid amount, optimizing CPM, and proper targeting features can help you increase the impressions of all your ads on TrafficJunky. You will need to test what works best to achieve the results to meet your advertising needs. We are always there to help!