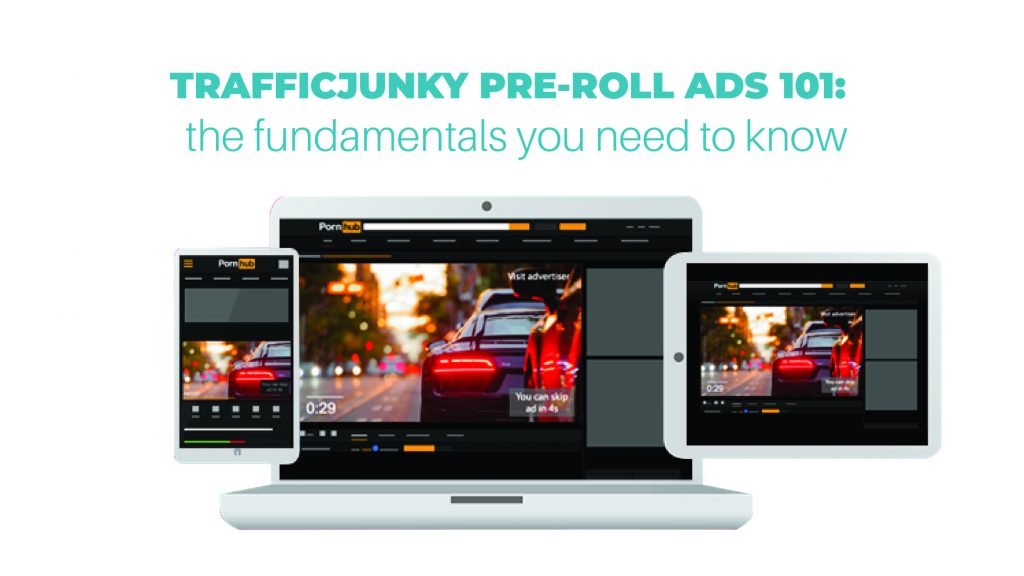 Have you seen video ads that display prior to a featured video online?
These are In-Stream (Preroll) Video Ads. At TrafficJunky, in-stream video ads yield some of the best results for our advertisers and have high conversion rates.
TJ ad network serves over 50 million daily in-stream video ads on premium sites such as Pornhub, YouPorn, Redtube, etc. These ads are compatible with all major video formats and are customizable with clickable CTAs (Call-to-Action).

Contents
Compliance Rules for Video Creatives
Overview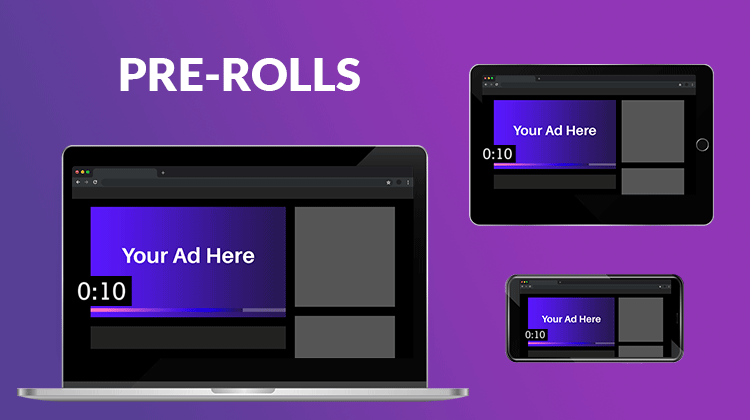 Pre-roll ads nowadays are very common on the Internet and familiar to different audiences. It's also a very promising ad format for advertisers, and here is why: According to a Google Ads report in 2018, pre-roll ads are 3 times less likely to be interruptive than banner ads, which makes it much more effective. Trafficjunky pre-roll ads have a 5-10% average CTR on PC and are great for Branding, Retargeting, and Performance campaigns. With the pricing 1/10 of YouTube's, it is without a doubt a very good investment to have. We typically see businesses in verticals such as Cams, Health & wellness, Casino, Poker, and mobile apps receive outstanding results in their pre-roll campaigns. Any questions? Reach out to support@trafficjunky.com, our team would be happy to assist you.
Sites
TrafficJunky provides pre-roll ads on:

Specs
Aspect Ratio: 16:9
Accepted Video formats: .MP4, .MOV, .WMN, .AVI, .VAST
Suggested maximum file size: 500MB
Max Video Length: 30secs
Recommended resolution: 1080p
Compliance Rules for Video Creatives
Rules include TrafficJunky's standard Rules & Regulations (with some exceptions specific to prerolls) and In-Stream specific rules.
Compliance Specific Exceptions
Creatives that have elements that portray the offer do not need to be rejected for video elements (usually relevant to adult games).
In-streams will be rejected for Google if they feature play button(s).
No text no logo does not apply because the video will be clearly marked as an advertisement within the video player.
Fast animation is allowed so far as it is not considered too intense for users.
In-Stream Rules
No imitation of control elements (skip, prev/next, volume, progress bar, etc.)
No elements depicting features that don't work and are designed to mislead users such as close buttons or mouse pointers.
No elements that resemble site warnings or error messages.
Do not include thumbnail images (i.e. related videos).
Do not use colors or site logos that might confuse the user.
Behavior
Pre-roll ads automatically display on the first video view and every third view thereafter.
The skip button appears after 5 seconds.
Frequency cap: by default, pre-roll ads appear once every 24 hours.
Full clicks are offered on all devices.
Supported VAST Features
Multiple tracking events: firstQuartile, midpoint, thirdQuartile, complete, mute, unmute, pause, resume, fullscreen, skip.
Pixel Tracking
Multiple Ads with different Ad weights
<Wrapper></Wrapper>, <AdVerifications></AdVerifications>, <Verifications></Verifications>, <CompanionAds></CompanionAds>, <Companion></Companion>, <Icons></Icons>, <Icon><Icon>
Unsupported VAST Features
"sequence" attribute
"conditionalAd" attribute
Nonlinear Ads
FAQs
What pre-roll stats do you provide?
The dashboard on Campaign Manager provides reports on play, skip, and finish statistics.
Do you accept VAST / VPAID?
TrafficJunky accepts any VAST up to VAST 4. We do not accept VPAID.
When should my video assets be delivered to TrafficJunky?
We suggest that you submit your assets for creative review 24 hours in advance of when you want your campaign to go live.
Do you support 'Calls to Action' (CTA)?
We support CTA text, 'Visit Advertiser' to be changed with custom text. Additionally, you can also add CTA banners and texts on your instream videos.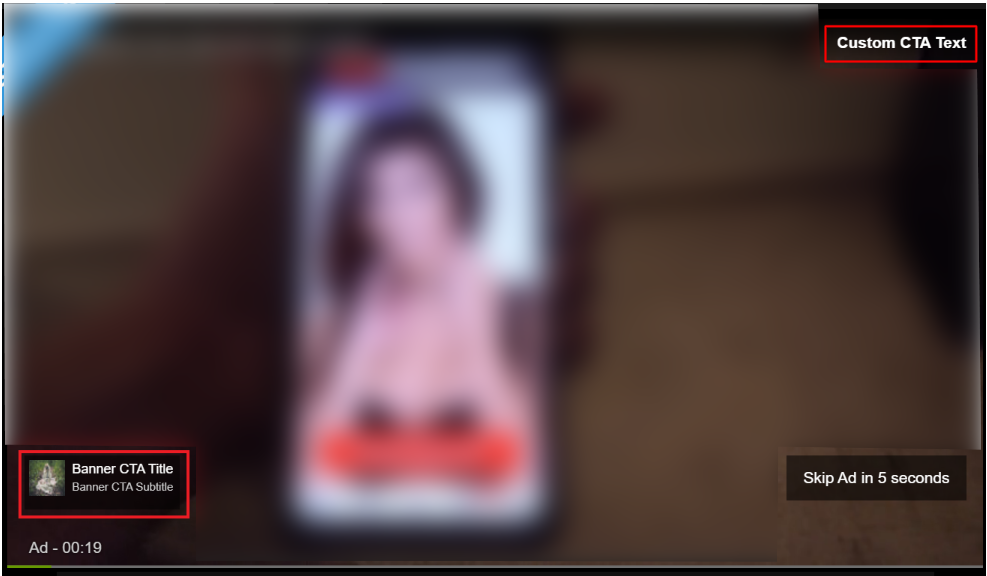 Who to Contact
Comments, questions, or concerns? Please reach out to support@trafficjunky.com