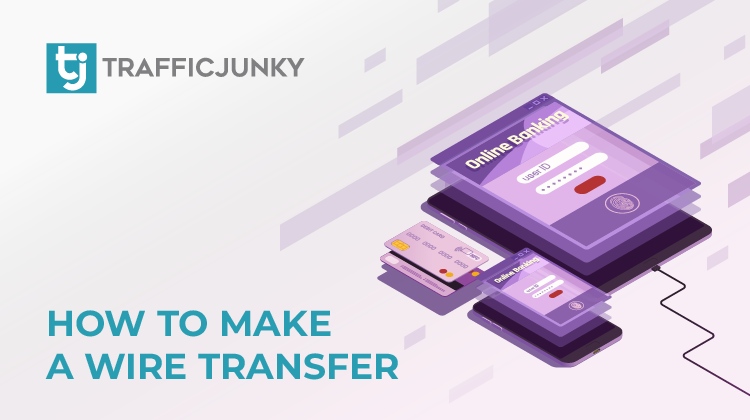 Wire Transfer is one of the most common payment options TrafficJunky offers. It is available to advertisers in all geos, allows you to make a minimum payment of 1000 EUR/USD, and takes 5 –7 days for funds to be reflected in your TrafficJunky account.
Is the YOTI Verification required for this payment method?
Yes, a successful YOTI Verification is required to use this payment method. Check out this blog post for everything you need to know about YOTI and how to verify your TrafficJunky account.
How to Make a Wire Transfer
Step 1: Generate an invoice.
In this step you set up all of the necessary details for your wire payment.
Go to the Add Funds page and select Wire Transfer as your payment method.
Choose your desired currency.
Select one of the suggested amounts, or enter a minimum of 100 USD or EUR.


Click Generate Invoice on the right side of the page


Click Confirm on the popup. You will be redirected to the Invoices Report page.



Copy the Invoice Numbers you just generated (the number starting with 'FRE').



Step 2: Make a Payment via Your Bank.
In this step, you generate all of the necessary information to then send out a wire transfer from your Bank to wire.
Click the PDF button to download the invoice. You will need this information to complete your transfer?



Make a wire transfer from your bank to TrafficJunky using the information in the PDF.
Note! Procedures may vary between institutions. Follow your bank's instructions to complete the transfer.
Step 3: Enter Payment Information.
This step provides TrafficJunky with the payment details needed to facilitate a smooth and quick transaction. More importantly, it helps you get your funds faster.
Return to the Invoices Report page on your TrafficJunky account.
Click Enter Payment Info on your invoice, you will see a pop up.



Enter the Transaction Reference Number and the Transaction Date from your wire transfer.



Click Save
Wait 5 –7 business days for the added funds to be reflected in your TrafficJunky account.
Questions, comments, concerns? Reach out to support@trafficjunky.com