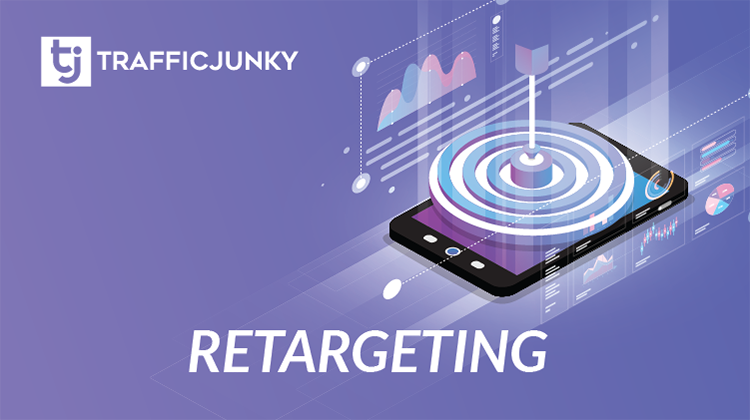 Retargeting… Arguably, one of the most frequent words you would hear if you have an online business. This should not be surprising as it is one of the most effective to ensure the success of online businesses. If you think that you do not need retargeting, well think again! 96% of website visitors that come to a website are not ready to buy what you are offering, be it a service or a product. That is quite chilling as a statistic.
What is retargeting?
In layman terms, retargeting allows you to present your brand again in front of bounced traffic after having browsed your website and left.
The following figure shows how retargeting works.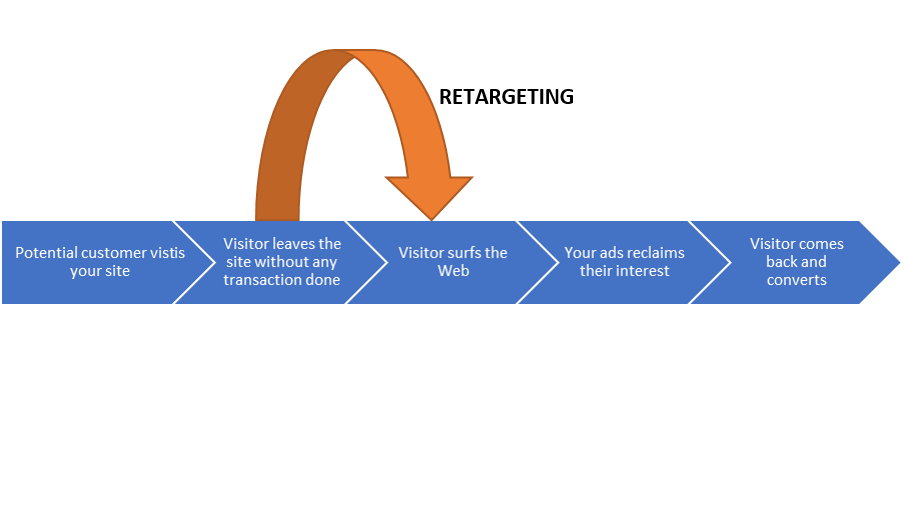 Retargeting Benefits
Increase Marketing Reach:
Remember how retargeting works? That cookie that follows your audience anonymously across the Web? That's the one… Using retargeting, you will be able to advertise your brand to the right audience across a wider range of websites, thus expanding your reach beyond what you might have been able to achieve using advertising systems such as AdWords, or Facebook Ads. What is more impressive than this is that you will be able to advertise on premium websites that offer huge opportunities for you.
Finer Engagement
A key aspect affecting your site is the amount of time your visitors spend on it. With retargeting, you will be able to reconnect with the right visitors and recapture their interest. But, numbers speak louder than words. Here are some interesting stats for you about retargeting and engagement:
Retargeting can lift ad engagement rates by 400%.
The average CTR of retargeted ads is 0.7%
Retargeted visitors are 43% more likely to convert
Engaged users have a higher chance to click on your ads and to convert.
Competitive Edge over Competition
Retargeting can help you present your brand in front of the audience until they are ready to convert. This increased brand awareness, alone, gives you a clear advantage. But, let's throw in some numbers to paint a clearer picture. 1 in 5 marketers have a dedicated budget for retargeting, and 11% use retargeting as a main tool to acquire competitor's customers. You don't want to be on the receiving end of this, as things won't look good for you. Instead, why don't you start using retargeting and reap the benefits of the technology that 46% of search engine marketers believe is the most underused?
Increase Customer Lifetime Value
This should come as no surprise to you if you have been following what we have been saying. Retargeting allows you to present your brand to your potential customers across a larger spectrum of websites, and it allows you to do so until they are ready to convert. This increases visibility and makes your brand more memorable, hence making the customer lifetime value higher.
Retargeting Best Practices
Segment Your Audience
Audience segmentation is one of the most essential steps to the creation of a successful retargeting campaign. Instead of displaying a generic ad to the audience that visited your website, segment your audience to make your reach more laser-focused and effective.
This is efficacious because you will be displaying ads for your audience based on their needs, wants, and, most importantly, interests. The following are some ways you can segment your audience for a better reach:
Geo
Frequency Capping
Browsers
Time Targeting
Operating Systems
You can also create custom segments and retarget them. One thing worth pursuing is creating a segment for High-Value Potential Customers.
Re-engagement Campaigns
One of the main reasons for launching retargeting campaigns is re-engaging your audience or customers. You can set up specific ads for your audience that has not purchased from you after x visits to your product pages, or audience members that used to be customers but simply drifted off. Set a time frame that you feel comfortable with and automate these campaigns.
Pro tip:  You can retarget failed signups using a combination of three targeting features. You can look at which parts of the day you have the most successful signups per browser. You can then target your failed signups to show them ads that would lead to your website at an adequate time according to their browser to ensure optimal conversion. In this mix of retargeting features, you can add frequency capping to ensure that you will not hinder your efforts by overexposing your brand to the retargeted audience. Having your different efforts attribute to each other's success is one goal you can achieve by using retargeting campaigns. Also, you will be able to eliminate loose ends in your marketing efforts.
High Intent Campaigns
High intent audience members are the ones that added one or more products to the cart and may or may not have started the checkout. You can retarget audience members that have abandoned their checkout to rekindle their interest and make sure they finally convert.
Pro tip: You can show hefty discount rates on your ads, free shipping offers, or even offer bundle deals in your retargeting campaigns, just ensure that the offer will be profitable if it has to run for a long time. The benefit of such a strategy is to shorten the time lag to conversion for your brand and try to cut your abandonment rate. Also, some users add products to their carts and stop to see if some offers are heading their way. Such a scenario is plausibly possible, and you do not want to miss such an audience.
Device-Specific Campaigns
You can run a retargeting ad campaign on multiple devices. Then, why limit the exposure of your ads to one device? To take advantage of this technique, you will first need to have a strong understanding of your audience. Ideally, their interest ought to be clear to you.
First, you will need to segment your audience to draw out the failed signups. The second step is to study the cross-device behavior of this segment. Once the entanglement is clear (use Venn Diagrams), you will apply a time decay attribution model to this device overlapping analysis. Quite a lot of fancy words, especially that time decay, but there is a sound reason for this approach. In laymen terms, you will be identifying, in the intersection of devices the user utilizes to interact with your brand, which device is most likely to cause a bounce. Hence, the time decay attribution model to the device overlap report of the failed signups segment.
Once you understand which devices are a flight risk when interacting with others you can run retargeting campaigns based on the OS of the devices to ensure that when the user is using that device they see relevant ads. Remember the users' interest part at the start of this paragraph? This is where it comes handy. Users display different interest when surfing the web on their different devices when you show ads relevant to that interest based on their device your cross-device or platform retargeting will be fruitful.
You can add more layers to this analysis such as time targeting, browser, and geo but be wary of the increased complexity. Some computations will be hard to make and can be misleading if not verified.
Pro tip: Make sure your website is mobile-friendly so when users come to the website form your mobile-specific ads there is no reason for them to bounce.
Freemium & Free Trials Campaigns
If your business model supports such features, then your audience members that took advantage of your freemiums & Free trial plans constitute a perfect segment for re-targeting campaigns. You can show specific ads to this audience that highlights the benefits of upgrading their plan and what they liked the most about the product.
You can even give them coupon codes or promotional offers which is more personalized just do not let that data go to waste by not taking any action on it. Once that data accumulates and becomes dormant, it will be quite hard to take any action without doing any due-diligence and rigorous analysis.
Pro tip:  You can implement such retargeting techniques along with other retargeting features to get the most out of it.
There are two ways to undertake such an endeavor. First, you can segment your audience based on geos and methods of payments. Method of payments differ from one geo to another and some are more trusted than others. Build different landing pages for this retargeting campaign. When a user arrives on your lander, they should see a method of payment relevant to their location.
This is plausible especially if your business model supports trials or freemiums without a method payment needed at the start. Such a technique of precise retargeting will help you gain such an audience.
Another way to handle this is by using the frequency capping and time targeting features. However, to use this combination, you need an in-segment audience report ready. You start with singling out the users you want to retarget to identify their in-segment category. Based on this, you can change the grouping to make it more detailed or generalized.
If you are unsure what to do, then leave the groupings as they are. Then, once the in-segments have been identified you can display ads that showcase the competitive advantage your service or product has. This is a laser-focused approach that would allow you to achieve high conversions. Mind you however that the size of some of the audiences will be small.
You can identify the time of the day per day of the week that leads to most conversions. Remember to cap the ads to show to your audience, so as not to kill that interest.