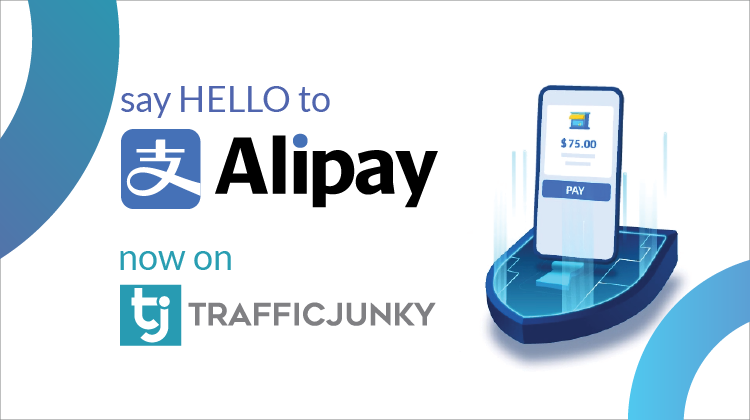 What is Alipay?
Alipay is an eWallet used to make cashless online payments and transfers. Popularly used in China, users may easily conduct transactions by downloading the eWallet on their mobile device. More information can be found here.
Prerequisites for Making an Alipay Payment to Your TrafficJunky Account
An Alipay e-wallet
A successful YOTI Verification is not required
Transactions have a minimum of 25 USD or EUR, and a maximum of 500 USD or EUR
Alipay is a global wallet, but it's not available in all countries
If you've any more questions, please contact support@trafficjunky.com
Is the YOTI Identity Verification required?
No, a successful YOTI Identity Verification is not required. However, we highly encourage you to complete the verification to validate your account's identification details and gain access to the payment methods that do require the verification (2000Charge, Wire Transfer, Crypto).
If you choose not to complete the verification, continue on with this blog post to use WeChat Pay or check out the other payment methods that do not require it (Paxum, SEPA, WeChat Pay). 
How to Make an Alipay Payment Towards Your TrafficJunky Account
Add an Alipay eWallet
Make a Payment
Add an Alipay e-Wallet
Please note that you can only add a maximum of 3 Alipay accounts to your TrafficJunky account. To remove any of them, please reach out to support@trafficjunky.com
Go to the Account Funding/Add Funds page and select Alipay as your payment method.
Scroll down to the section e-Wallet, and select Add a New Alipay e-Wallet.



Enter your first name, last name, email, and phone number.



Click Add Alipay e-Wallet.
A confirmation email will be sent to the provided email address. Follow the instructions to complete the verification.
On the Add Funds page, click Reload Your List of Alipay e-Wallets to see your verified email in the list.
Once your Alipay email has been verified, it can be used to make payments on TrafficJunky.
If you didn't receive your Alipay e-Wallet Verification Email, Complete the following troubleshooting steps:
Check your spam folder.
Ensure you linked the correct email to SEPA.
Check all emails with an associated SEPA account.
If you don't receive the verification for your account, click Resend Verification at Step 3 on the Add Funds page.
Note: You can only opt to resend the verification once. If you do not receive your authorization emails after attempting to resend your verification, please reach out to support@trafficJunky.com.
Our customer care team will be happy to assist you!
Make an Alipay Payment
Go to the Account Funding/Add Funds page and select Alipay as your payment method.
Now, You can either enter a custom amount or select one of the suggested amounts.



Optional: By default, TrafficJunky uses the billing information in your profile. To reveal the Billing Information section, click the check box. Here, you can also manually enter your billing information for this transaction.
Select an Alipay e-Wallet.




Your transaction details will be displayed on the right side of this page.




Check the box to confirm you have read the VAT details.
Click Load the Account.
You will be redirected to the Alipay Payment Gateway, where you have to fill out the required payment information (email, address) and click the checkboxes to agree to the terms.
Click Pay Now to complete the payment.
You will be redirected to the Payment History page, where you should see a message confirming your transaction. The completed transaction will also appear in the list of transactions.



You will receive a confirmation email when your funds are added successfully. In the case of a failed transaction, you will receive a funding failed email.


Cancel a Pending Transaction
Return to the Add Funds page and select Alipay as your payment method.
You will see the following screen.



Click Cancel Pending Transaction to cancel the transaction.
Troubleshooting your Transaction
In case of any other issues, please perform some of these basic troubleshooting steps:
Clear your cache and cookies
Use incognito mode
Ensure browsers are up to date
Try Chrome on a PC
Try other browsers
Try other devices
Temporarily disable VPN services
Temporarily disable any ad blockers
Temporarily disable anti-virus
If you still have any questions, comments, or concerns? Please reach out to support@trafficjunky.com